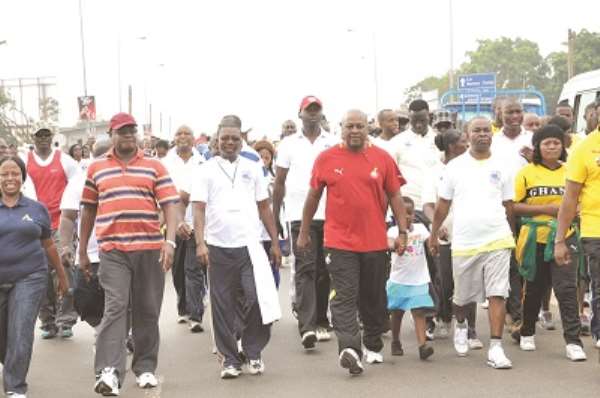 President John Dramani Mahama has urged Ghanaians to exercise regularly to avoid contracting diseases and rather prolong their lives.
He said unlike the past when people engaged in rigorous farming, fishing and hunting, those activities had now been mechanised while many people engaged in sedentary work.
Therefore, he said, it was only through regular exercises that the heavy meals that many people consumed could  be digested and they could keep their bodies active.
President Mahama made the  call last Saturday after participating in the 14th annual Republic Day Walk organised by the El-Wak Keep Fit Club in Accra.
The 15-kilometre walk, which began from the El-Wak Sports Stadium at 7:am  and ended at 10:am, took the President and more than 500 people through Pig Farm, New Town, Nima, Mamobi and back to the El-Wak Sports Stadium.
The Chief of Staff, Mr Prosper Douglas Bani; the National Security Coordinator, Lt. Col. Larry Gbevlo-Lartey; the Inspector General of Police, Mr Mohammed Alhassan, the Minister of Youth and Sports, Mr Elvis Afriyie-Ankrah, and the Greater Accra Regional Minister, Mr Julius Debrah, are some of the dignitaries that participated in the walk, which was held on the theme; 'Together We Stand, Divided We Fall.'
Members of other keep fit clubs in Accra also joined the walk, which was done with singing and drumming.
President Mahama has participated in the walk three times as a Vice-President, and Saturday's walk was the first time he was attending as a President.
The President said in the past people used hoes and cutlasses to till their land, but now they used tractors to farm; fishermen used outboard motors to move their canoes instead of paddling the canoes themselves. Also, he added, hunters had stopped going far distances for game as was the case in the past.
Besides, President Mahama said many Ghanaians by nature of their work as administrators, clerks or shop keepers now sat for  long hours at their workplaces and shops, hence the need for exercising.
He said the failure of such people to move about or engage in physical exertion was the cause of increased lifestyle diseases such as hypertension, diabetes and stroke.
The President, therefore, stressed the need for people to make exercise part of their daily  activities.
'Thirty minutes brisk walk daily is enough for your heart to be healthy,' he said.
The Chairman of the El-Wak Keep Fit Club, Mr Patrick Senaya, said the theme of the walk was chosen because of the tension that had characterised the post-election period.
By Musah Yahaya Jafaru