Partnering with Ghana to find the root cause of the recent fire outbreaks at market places and some other public places, according to US Ambassador to Ghana, Gene Cretz, shows how friends and allies join hands to share expertise.
Requesting a team of experts by the Ghana government to investigate the incessant inferno situation in the country, he mentioned, was one of the collaborations.
Some arrests have so far been made, pending prosecution.
'Without listing every aspect of our partnership, let me state another way to think about our partnership. Sometimes, we work together on important short-term priorities, as when we responded to a Government request to provide a team of experts to partner with Ghanaian counterparts to investigate the cause of market fires in Greater Accra and Kumasi. That is what friends and allies do, collaborate to share expertise,' he emphasized.
Addressing attendees of the United States' 237th Independence Day celebration at the US Embassy in Accra Thursday, Mr. Cretz disclosed that travelling the length and breadth of Ghana in the course of his nine months stay, has given him deeper insight into the development projects his country was carrying out to transform and save the lives of the Ghanaian people.
Some of these benevolent activities include education, health, sanitation, water, defense and security, ICT, exchange programmes among others.
Meanwhile, Ambassador Cretz has urged 'whatever we do, it is important that we report results on our activities so that governments, citizens and broader civil society can know that our partnership is well-thought-out and that donor funds are used wisely.'
The goal of an informed citizenry by way of transparency and open data to keep countrymen abreast of government's policies, he opined, was one which both countries shared.
The Head of Government delegation to the event, Finance Minister, Seth Terkper expressed appreciation to the International Finance Corporation (IFC's) for the $80 million loan for expansion works at the Takoradi 2 power plant as well as Ghana's selection for another Millennium Challenge Corporation Compact.
Mr. Terkper, on behalf of President John Dramani Mahama, affirmed commitment to fighting transitional crime as illicit drug trafficking and terrorism.
However, 'in doing so, we will continue to count on development partners such as the United States in the years ahead,' he added.
Present to grace the occasion were former first lady Nana Konadu Agyemang Rawlings, Dr. Mahamudu Bawumia, Hannah Tetteh, Foreign Affairs Minister, British High Commissioner to Ghana, Peter Jones and many others.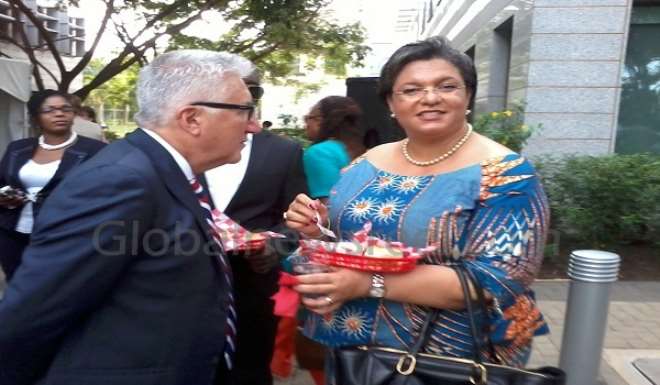 AMBASSADOR GENE CRETZ WITH HANNAH TETTEH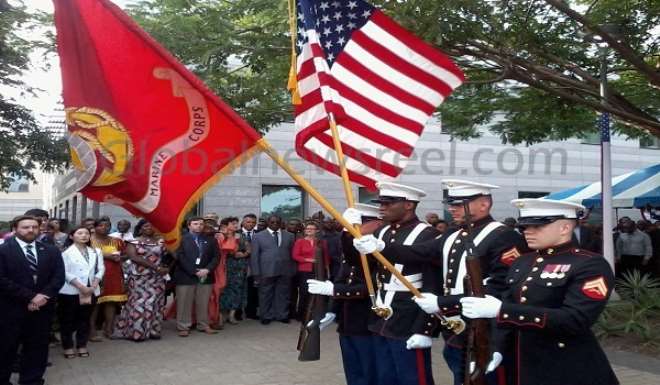 COLOUR DISPLAY BY US MARINE CORPS