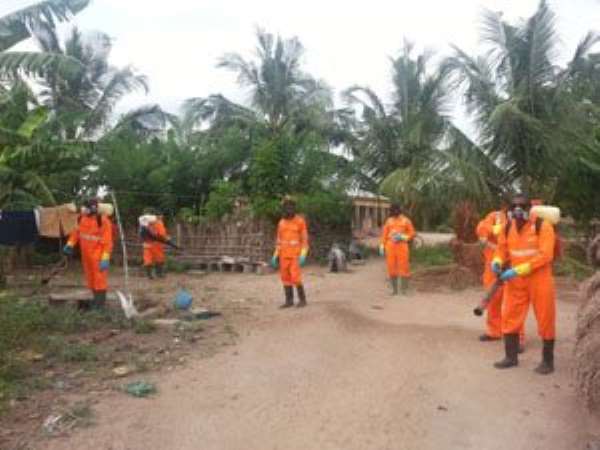 Personnel of the Mosquito Control Programme at work at Amedikpi, Agotime-Ziope
He noted that 'although I do not have the specific figures, the attendance at the various health facilitates concerning malaria and other insect related disease has fallen considerably.' He commended National Mosquito Control Programme being undertaken by the leading waste management company in the country, Zoomlion Ghana Limited, for the feat.
Under the programme, personnel of the Vector Control Unit of Zoomlion periodically sprayed communities and bushes believed to be inundated with mosquitoes; carriers of the malaria parasite. In some cases, drains were disilted and bushes cleared in addition; all in the attempt to reduce mosquito population in the affected areas.
The programme is done under the supervision of the District and Municipal Environmental Health Offices across the country. Mr Adjaho made the observation at Amedikpi, a village in his district.
According to him, prior to the programme, most of the health facilities in the district were overwhelmed with malaria patients and other insect related infections including skin problems. However, 'the spraying has helped a lot.' He therefore assured Zoomlion of the district's support in all their operations.
His observation was confirmed by inhabitants of the Amedikpi community. All those who spoke to DAILY GUIDE noted that the spraying has helped them and that the situation where most of their children frequently fell ill had become a thing of the past.
The Volta Regional Head of Environmental Sanitation at Zoomlion, Richard Attipoe who was supervising personnel at Amedikpi in the exercise noted that the programme has gone a long way to support government to reach its targets as far as the Millennium Development Goals were concerned.
He said every year, 3.5 million malaria cases were reported while 20,000 children died from malaria. As a result, the programme has helped to reduce malaria infection in pregnant mothers and children, and eventually reducing maternal and child mortality.
The District Environmental Officer, David Gakpetor also commended the project and noted that his outfit was in close collaboration with Zoomlion in keeping the environment healthy.
From Fred Duodu, Amedikpi