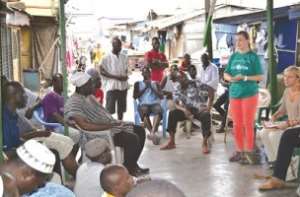 Representatives from Projects Abroad, a volunteer-sending organisation, met the chiefs of the Old Fadama community yesterday in an effort to facilitate their outreach work in the Agboloshie market area.
Projects Abroad volunteers started a medical outreach programme and a human rights advocacy programme at Old Fadama in April 2012, working in partnership with the Women in Slums Economic Empowerment, a non-governmental organisation based at Agboloshie.
The Director of Projects Abroad, Ghana, Mr Emmanuel Abaaja, said  the meeting would allow the organisation to work independently in the Old Fadama community and to implement the outreach projects more effectively.
'Today is the day we have officially introduced ourselves to the elders of the community,' he said during the meeting.
As part of the event, Projects Abroad also donated items such as rice, milk, canopy, and chairs valued at GH¢ 900 to residents of Old Fadama.
Following the meeting, the Human Rights Advocacy department of Projects Abroad will launch the Fadama Legal Assistance Programme, a project meant to provide advice and support on issues such as domestic violence, rental disputes, deceased estate assets, and child maintenance.
In addition to the human rights advocacy programme, seven former Projects Abroad volunteers from the United Kingdom are in the process of implementing an energy project at Old Fadama, which will consist of 110 solar panels being installed in the area in September.
The solar panels, which are estimated to be worth around GH¢ 1,900, will serve as a preventive measure against fires such as the one that broke out at the Makola Market on June 4, causing the destruction of 49 shops.
According to data available to the Projects Abroad office, about 120,000 people coming from 16 different tribes live at Old Fadama, making it the largest slum in Accra.
Established in 1992, Projects Abroad recruits international volunteers to work in about 30 countries across the world.
In Ghana, Projects Abroad volunteers participate in programmes and internships in Accra, Cape Coast, Kumasi, Koforidua, and the Akuapem Hills.
By Francesca Annicchiarico