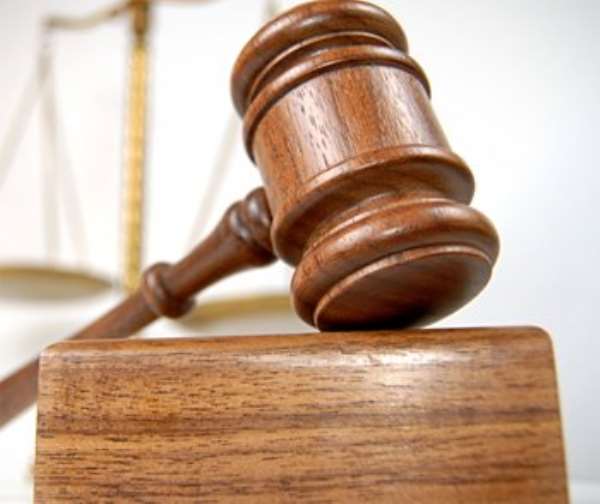 THREE ARMED robbers who in August 2011, engaged in a robbery escapade around Odorkor and A-Lang, all suburbs of Accra, were yesterday convicted and sentenced to a total of 120 years imprisonment by an Accra Circuit Court.
The convicts, Aziz Musah, Baba Sally and Stephen Glatu, attacked their victims with machetes and robbed them of valuable items including money, mobile phones and laptops.
The three convicts, who went on their operations ridding on unregistered motorbikes and wielding machetes, pleaded not guilty to a charge of conspiracy and four counts of robbery.
The court presided over by Francis Obiri observed that the prosecution proved a case against the convicts on two out of the five charges.
The three were therefore admitted and discharged on three of the robbery charges in which they were said to have robbed three people—Nana Yeboah, Derrick Nkrumah and Sovo Osabutey—because the prosecution failed to make a case against them.
On the charge of robbery which they were found guilty, the three reportedly attacked one Kodjo Fetse with machetes and robbed him of his DV7 laptop and cash of GH¢120,000.
The judge sentenced them to 10 years and 40 years each on the two charges of conspiracy and robbery respectively.
The court further ordered that the unregistered motorbikes retrieved from the convicts should be sold within three months under the supervision of the court registrar and the proceeds paid into the consolidated fund.
The prosecutor, Owusu Ameyaw, a state attorney, briefing the court about the case, stated that Aziz Musah, Baba Sally, Stephen Glatu lived at Pig Farm, Nima and Kokomlemle respectively. A fourth accomplice, Baba Musah, is still on the run.
He narrated that on August 19, 2011 at about 5:30am, two of the complainant's, Nana Yeboah and Derrick Nkrumah, were in an internet café when they were attacked by the convicts.
Derrick Nkrumah, according to the prosecutor, was robbed of his HP laptop, mobile phone and cash of GH¢100.00.
The convicts reportedly also broke into Nana Yeboah's drawer in the café and robbed him of an unspecified amount of money.
Thereafter the convicts locked the complainants up in the café and fled with the booty on unregistered motorbikes.
The prosecutor further stated that on August 20, 2011, at about 8:00am, the convicts, ridding unregistered motorbikes, attacked Kodjo Fetse with machetes at A-Lang and robbed him of his HP DV7 laptop and cash of GH¢120.00.
According to the prosecutor, the convicts on their robbery spree met Sovo Osabutey also at Sowutuom and robbed her of her handbag containing personal items.
The police, on that day, around 10:00am spotted the convicts at Giga junction-Sowutuom on the said unregistered motorbikes and subsequently arrested them.
By Mary Anane