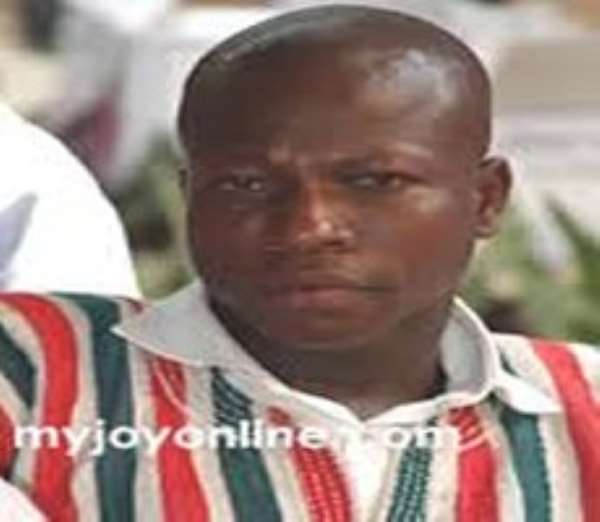 James Kwabena Bomfeh (Kabila)
James Kwabena Bomfeh Convention People's Party (CPP) Youth Organiser and the party's Parliamentary aspirant for Kintampo North in the 2012 elections has cautioned Isofoton over their refusal to abide by the Supreme Court ruling asking the company to refund about $400,000 to the state.
According to Bonfeh, popularly known as Kabila, Isofoton's outspoken stance not to heed the Supreme Court ruling is in breach of Article 2 of Ghana's Constitution.
Article 2 of the Constitution confers authority into the Supreme Court to "make such orders and give such directions as it may consider appropriate for giving effect or enabling effect to the declaration so made".
Speaking on Kokrokoo on Peace FM Monday June 24, Kabila said punishment for refusal to carry out the Court's orders has been expressly stated in Clause 4 of the Article 2 which states: "Failure to obey or carry out the terms of an order or direction made or given under clause (2) of this article constitutes a high crime under this Constitution…"
The Supreme Court on Friday June 21, 2013 ordered Isofoton to refund about GH¢ 618,396.8 ( or $325,472) illegally paid them by the state in a case brought against the company by former Attorney-General, Martin Amidu.
The Court ruled, among other things that the contract between Isofoton and the state is void because it did not get Parliamentary approval as required by Law.
Isofoton were seeking $1.3 million judgement debt from the state claiming that their contract was illegally terminated by the erstwhile Kufuor administration after being contracted to supply Solar powered pump for irrigation.
But while many Ghanaians eagerly await the refund of the illegal monies paid to the state, Isofoton has said it will not pay. Anane Agyei-Forson, Isofoton SA's agent said he disagrees with the Court ruling.
Mr Agyei-Forson believes it was the duty of the state, and not Isofoton to take the contract to Parliament.
However, James Bomfeh believes such a stance could cause serious problems for the embattled company. He said there was collusion between state officials, who according to him "ought to have known better" and Isofoton officials to dupe the state.
James Bomfeh also expressed shock at Samuel Okudzeto-Ablakwa's claims of vindication in the Isofoton ruling.
He recalled that the Deputy Education Minister, who was then a Deputy Minister of Information, called Martin Amidu, who was then Attorney-General Martin Amidu to expedite payment of more than $1 million judgement debt.
In his view Okudzeto-Ablakwa's claims of vindication is warped.