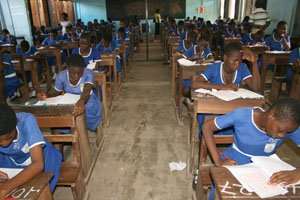 Students
IT IS not about sparing the rod and spoiling the child as it used to be but ensuring sanity in the school environment devoid of the crudeness of caning.
Ghana's UNESCO 12th ranking on the list of countries with bad record of the violation of children's rights is an unenviable one.
With 56 years experience as an independent country coupled with a sizable literate
population we should have done better than the foregone.
At a two-day workshop on the subject recently in Accra, participants called on the
relevant authorities to ban corporal punishment in schools.
The mission schools' corporal punishment mode of pre-independence days is painfully persisting in some parts of the country in total violation of the rights of school children in a modern day environment.
The decision to delve into this subject for us is a welcome development for which those responsible must be congratulated at this time.
Many children who dropped out of school many years ago did so because of the hostile environment prevailing in such educational institutions. It is regrettable that children would drop out of school because teachers are fond of the excessive use of the cane.
The reversal of this negative trend can only come about through a policy change
at the Ghana Education Service (GES) level.
Some have wondered whether a few years ago there was not such a policychange
announcement. When policy changes are announced it would appear that the monitoring mechanism to ensure enforcement does not couple it. This way the status quo remains and after a while we lose track of whether there was any attempt at bringing sanity in the school system at all.
One of the means of encouraging children to love going to school is to establish a friendly school environment devoid of the crude use of the cane. We can state that some children do not love Mathematics because of the aggressive approach of some teachers of the subject.
Some teachers, it would be recalled, used the cane to whip pupils who were unable to
cope with the mental drill exercises in the elementary schools. Eventually some of the pupils grew up with an unnecessary phobia for Mathematics. That is how bad the situation
can be when corporal punishment is allowed to prevail in the school system.
There have been accidental fatalities in some instances where corporal punishment was administered. In the Kotobabi suburb of Accra a teacher was arrested for causing the death of a teenaged school girl when he used a cane on the kid a couple of years ago.
It is our take that the GES, besides effecting a policy change to protect children from being avoidably whipped, should ensure a frequent inspection to ensure compliance.