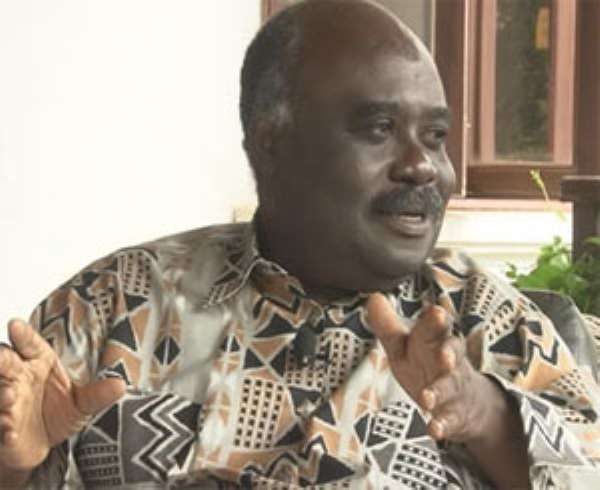 Dr Charles Wereko-Brobbey
A Former New Patriotic Party National Youth Organizer, Anthony Karbo has said that the party's stalwart Dr. Charles Wereku Brobbey is resorting to desperate measures in dealing with his recent predicaments.
Dr. Wereku Brobbey is facing the party's disciplinary committee over his criticisms of the party's election petition.
The former Volta River Authority boss is accusing Anthony Karbo of orchestrating a mob attack on him at the party headquarters last Friday.
In a letter written to Chairman of the Committee, dated Monday June 17, 2013 and titled 'REQUEST TO ABANDON DISCIPLINARY PROCESS', Dr. Wereko-Brobbey protested against what he described as the "unconscionable actions of two other officers of the party, namely Mr. Ayikoi Otoo and Mr. Perry Okudzeto; which actions completely undermined and prejudged the outcome of the as yet unconcluded deliberations of the committee'.
The former Presidential Candidate who stood on the ticket of splinter party United Ghana Movement, expressed his reservations with interviews granted the media by the two party members. '
The energy expert also drew the Committee's attention to 'media interviews granted by the former National Youth Leader, Anthony Karbo, in the wake of the assault by mobs, during which he virtually admitted to have orchestrated the violent actions that took place and suggested that they would take the law into their own hands to mete out their brand of justice on their own terms'.
But Mr Karbo has denied the allegation in an interview with XYZ News. He said 'I always believed Dr. Wereko Brobbey is desperately and his frustrations have gotten to levels where he begins to change positions when it suits him' He continued 'I don't know when he will blame the entire party for his predicaments'