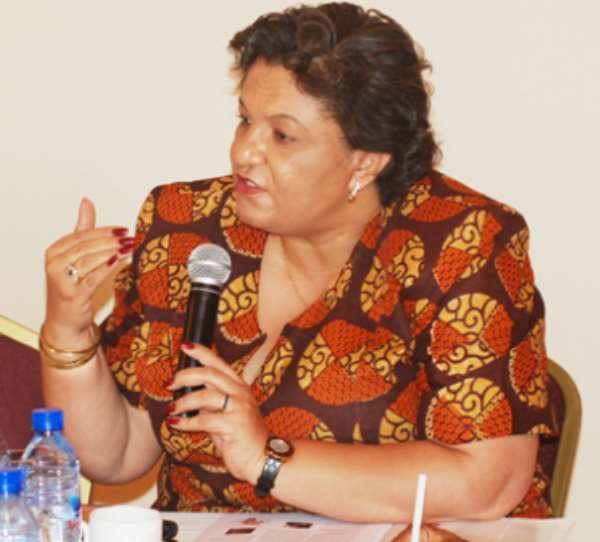 Hanna Tetteh
The expensive tastes of Ghana's foreign Minister Miss Hannah Tetteh took a stratospheric dimension when she spent 15,000 pounds on Jewellery and other accessories at Hatton Gardens, a haunt for very expensive jewellery in an exclusive part of London.
Miss Hannah Tetteh, who is also a member of Parliament and of Hungarian descent was quietly escorted by 2 officials of the Ghana High commission and spent three hours on Saturday morning buying expensive rings, bracelets, tiaras as well as brimstone sapphires which are very rare and made exclusive for arab sheikhs who normally frequent London to shop from the United Arab Eimrates and Qatar.
Diamonds they say are a girl's best friend and also forever. Miss Tetteh wasted no time trying various rings and earings and loaded as much as possible into her shopping trolley.
The total bill came to 15,000 pounds and MrsTetteh paid by travellers cheque.
This action by Ghana's foreign minister exposes one critical issue that Ghananian ministers are travelling outside the country with huge amountsof money why?
Miss Hannah Tetteh came to the UK in the company of Presient John Mahama and others like Mr Paul Victor Obeng ,special adviser to the President and Mr Haruna Idrissu ,Minister for trade. Is it now part of Ghana's foreign policy to buy diamonds and sapphires for personal use instead of finding out how Ghanaians in the diaspora could contribute to build Ghana?
I call on Ghana's President John Mahama if he is really the president of Ghana to show his authority and sack Hannah Tetteh and the 2 officials of the Ghana High commission who accompanied her to fritter away monies that belonged to the people of Ghana and investigate how and why ministers are carrying huge amounts of monies when travelling abroad.