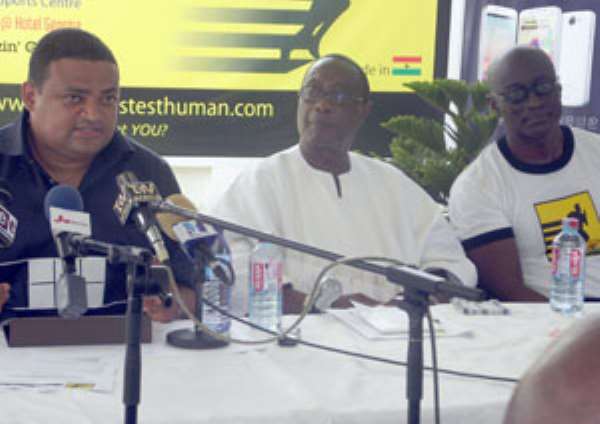 Yammin (L) delivering his address at the function. With him are Mike Gizo and Brobby
The initiative, put together by Reks Brobby, a former athlete and a well known event organizer would focus on 100metre-sprinters, and seeks to right the wrong that has accounted for the fallen standards of the sport in the country.
Brobby has attributed the low standards to two main factors-lack of inter-school athletics competition and lack of investment in the security services sports.
The situation has stirred him to provide a platform for athletes to scramble for the ultimate prize. The month of July has been set for registration at the various stadia and some designated locations.
Between August and September, registered athletes would engage in 50 and 100 metre dashes and the last 50 who would be selected from the lot would be housed to begin the competition in October.
At stake for the ultimate winner is GH¢20,000 apiece for both the male and female categories.
Deputy Youth and Sports Minister, Hon Joseph Yammin pointed out that the surest way to achieving results in sports was identifying talents.
He revealed that identifying talent alone was not enough, but the surest way, was to ensure the provision of infrastructure.
According to Hon Yammin, his outfit was putting together a policy in place to develop infrastructure. He indicated that plans were already in place to construct sporting infrastructure to offer more opportunities to the youth identify their talents.
He said talents abound, hence the Ministry's quest to provide infrastructure to develop the talents.
'Government is committed in putting up sporting infrastructure to help develop the numerous talents, the construction of the facility would not only be cited in the regional capitals but at the district level as well.
'I commend the organizers for the event, I pledge the Ministry's full support for the initiative,' Hon Yammin stated.
Head of sales, Marketing and Public Relations, TECNO Mobile Zone, Jocelene Buckman noted her company decided to support the initiative saying, 'We considered it prudent to support the initiative and has to do with the youth. We believe in supporting every youth in the country to fulfil their dream; providing such opportunities for them takes them from the street you know.'
 By Kofi Owusu Aduonum