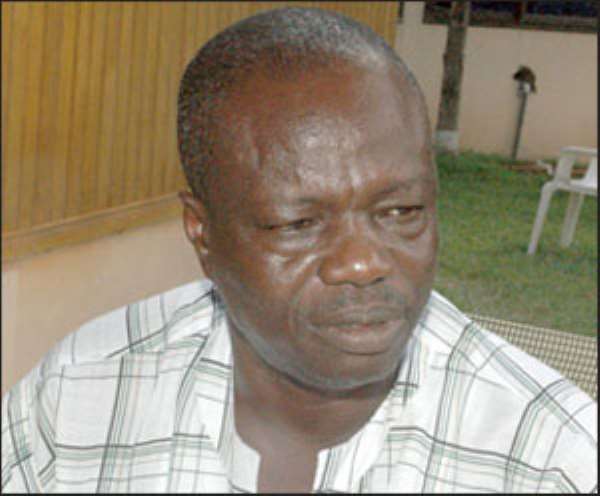 Kwesi Biney
Oh, Oman Ghana, thy casket is being dragged slowly but surely into a grave dug by a section of your sons and daughters who have de facto powers and do not know what good use they should put the power to. Apart from the few who survive on national largess, every single Ghanaian is crying out but they are not being listened to. Those in charge have no conscience that could be put to test to re-make this country for the broader good of children of today and those yet unborn. Morality is dead, principles are crippled, decency has cardiac arrest, discipline is at the mercy of indiscipline and impunity is the monarch of all it surveys. In the milieu of all the above, new gashes are added unto their injuries as if they do not deserve the tender care of a physician. Oman Ghana's death is being purchased on instalment basis.
I am not too old to give up, in fact I am in the independence born category of President Mahama, just a little earlier than he came though, but I am extremely worried about the direction of this nation and what we are bequeathing to the younger ones and those yet to be born. I do not know, whether to suggest to the younger generation of married couples and those yet to give birth to place an embargo on child-bearing until further notice- in other words, child birth should be adjourned sine die. I am sure there will be huge objections to this suggestion which is likely to be sustained not on the face of the realities in which we live, but on the pink sheet of emotions.
Oh yes, what is the point of bringing to this earth human beings who are not likely to have clean and affordable water because the sources of water have been polluted by miners of dubious status and legal residence with the explicit acquiescence of the government which has the responsibility to protect all of us from this obvious dangers?  Article 36 (9) of the 1992 Constitution says 'The State shall take appropriate measures needed to protect and safeguard the national environment for posterity…'
What are we seeing in this country, that we have a government which sits down and supervises the blatant and criminal destruction of the environment by nationals and illegal migrants with impunity? Water, which nature generously gave freely to us has today become an essential commodity available to only the privileged few. If those of us alive today cannot have good clean water to drink, why bother to bring others to this earth to suffer worse situations? Today, there is no single town or city in this country where children and parents do not have to trek long distances with their Mahama gallons in search of water. Arable lands can no longer be used for food production for us all. What is it?
We are in the sixth month of the year 2013, the Presidency as per the December 2012 elections, is being disputed in the highest court of the land but in spite of that, there is a President with the powers to run this Republic. I can state without any evocations that all state machineries have been shut down because the lubricants needed to oil the machines are in serious short supply. Put differently, state agencies have not received any monies to run Departments and Agencies, this is to say they cannot buy fuel to run their vehicles, operate their computers, pay telephone bills, water, electricity, buy simple A4 sheets for administrative purposes and the day-to-day running of those Departments and Agencies. The staff are all at post and take their monthly salaries.
Very critical state Agencies and Departments like the Ghana Education Service and its agencies throughout the almost 200 districts in the country have not received anything to run their offices since the beginning of the year. They cannot buy chalk, note books, registers and all the basic needs to properly manage schools within the districts. The District Agriculture offices are in the same boats as the Education directorates. The staff cannot engage in their extension service activities to the farmers to help them to improve food production at this time when it is crucial for them to do so. The Audit Service, Veterinary Services, Health Services at the district levels have no monies to engage in their works. The only funds to these state institutions are salaries for the staff.
Paradoxically, while these critical agencies and departments are financially disabled from doing their work, stories of massive corruption among other state institutions manned by NDC appointees is rife in the country. While the citizenry is overawed by this uncontrolled and institutionalized dissipation of national resources, the government of John Dramani Mahama has done nothing to the best of my knowledge to even investigate the allegations of corruption within the corridors of political power. Quiet recently, the major psychiatry hospitals in this country nearly closed their doors to new admissions in addition to possible discharge of patients who are already in there. This is the first time in the history of this country that such specialized hospitals were going to close down not on the basis of poor remuneration for staff, but the absence of working materials. Is John Mahama not ashamed of this in his Presidency?
As you read this piece, dear reader, Specialized Schools in the country do not know when the schools are going to re-open because they have been swallowed by debts since their subventions are in arrears and they do not want to go back to school and add onto it. What is happening in this country? That we have a body called the Ghana Immigration Service whose mandate is to ensure that non-Ghanaians who enter this country meet certain basic criteria, can sit down and close their eyes to people not from the ECOWAS zone but from far away China to penetrate our Forest Reserves to do damage to our environment?  Ghana is going, going—.
Hmmm, and the National Security? As for poor people like me, they can easily locate me and put me in a cooler at their leisure if they want to but they cannot identify aliens who have entered this country illegally and are also engaged in open illegal activities. Where is our collective security for surety yee a? I have had the occasion to warn that the biggest security threat to this nation is an imminent food and water crisis as a result of government's inability to deal with acts of omission and commission which have the medium to long term effect of making majority of us go hungry and without water and yet no serious actions were taken.
In a country where the provision of critical services like water and electricity has become precious commodities for both the poor and the rich, the incompetent and inefficient providers of those services are asking for over 100% increases in the tariffs. Where else can this happen other than in Ghana under John Mahama? It is the more disturbing when there is copious evidence of financial mismanagement in those institutions which are asking us to extract our last drop of blood to make them solvent instead of efficiently managing what we pay them for their unreliable supply of the services. Again, in Ghana, we pay tariffs for services in advance and yet the providers decide when and how they would want to deliver the service, they do not put their conscience to the test to improve on their responsibility to the public; all they do is to make demands for more money. Ghana is going, going—.
I am not surprised that so many bad things go on in this country without the Executive authority saying anything about them for the sake of this country. My reason? Hmmm, in a country where 10% of GH¢25.00 is GH¢25.00, and 10% of GH¢4.00 can also be GH¢25.00, which shows a clear overpayment (note I did not say over voting oooo, as for Ghanaians you can twist my mouth and put me in trouble), chopping public funds fooya-fooya without any attempt to protect the public purse will be the order of the day.
Not once in the history of this country has so much impunity become a way of life, corruption so accepted by government, indiscipline raised to the highest levels of social life, immorality as a way of life, total disrespect for the elderly by the sharp-teethed children as if disrespect has been legislated in this country. I feel so sad and sometimes have to take solace and succour in my mahogany bitters. Three shots for the day.
[email protected]
 By Kwesi Biney