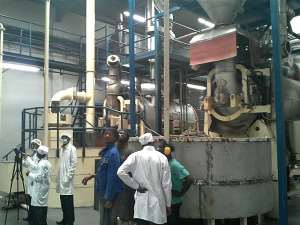 In recent years, the private sector has been recognized as a key engine of economic development in Africa as well as in other parts of the developing world. Yet, the most simple and fundamental question remains unanswered: how is Africa's private sector developed to actually boost economic growth and reduce poverty? The private sector in African countries comprises of a heterogeneous mix of very large multinational corporations and large numbers of very small micro and small enterprises. Broad-based and rapid economic growth, largely due to private sector development, can have a dramatic positive impact on economic transformation and poverty reduction.
Private sector development is therefore being identified as critical to facilitating economic growth and reducing poverty and inequality in Africa. The current economic growth pattern on the continent stresses the importance of private sector investment in promoting Africa's economic growth. Hence, identifying the private sector development as an engine of sustainable and inclusive economic growth is of critical importance in reducing poverty on the continent.
Many African economies are characterized by the absence of a viable private sector, the hypertrophy of the public sector, the importance of the informal sector, and the absence of tools for research and innovation - all of which negatively impact on economic growth and worsen poverty.
Boosting Africa's private sector as an engine of growth and poverty reduction is a strategy for promoting economic growth and reducing poverty in countries by building private enterprises, membership organizations to represent them, and competitive markets that are stronger and more inclusive. Thus, promoting economic growth led by vibrant private sector.
Indeed, to release the potential of Africa, there is the need to develop a strong, vibrant and viable private sector as a means to facilitate rapid economic growth and poverty reduction on the continent. This means major investments and policies geared towards private sector development on the continent. Despite claiming private sector as an engine of growth and poverty reduction as a strategic objective, African countries have yet to reach their full potential particularly, when it comes to developing the framework for a vibrant private sector.
Why has it become so critical that, the private sector be developed? It is for the simple fact, that, economic growth and poverty reduction can be achieved with a vibrant private sector involvement. The continent is currently faced with various infrastructural challenges which require an active involvement of the private sector.
For instance, energy, water, sanitation, telecoms and transport have long being identified as a major setback to trade on the continent. Energy supply continues to be Africa's largest infrastructure challenge with 30 countries experiencing frequent power outages with just over a third of Africa's population having access to electricity. Poor infrastructure cost each member country's growth to reduce by 2percentage point each year and cut productivity by as much as 40%. And according to the World Bank about $93 billion is needed annually to be able to fund Africa's infrastructure for the next 10 years. Which is about 15 percent of the region's GDP.
The African private sector therefore, provides great opportunities for growth and development. Africa's population, geographic size and wealth of natural resources make it an attractive investment destination and more room for private sector investments. There is therefore the need for African governments to create a more welcoming business environment through local, flexible policies with input from the private sector.
Indeed, to be able to stimulate and create a viable private sector on the continent, to accelerate economic growth and reduce poverty, a number of issues must be addressed. There is definitely the need to create investment climate. This can be achieved by reducing risks and costs of doing business and by securing private property rights, improving governance, simplifying regulations and promoting competition.
There is also the need for financial sector development by strengthening regulatory and institutional frameworks to improve governance and increase competition, improving access to finance and financial literacy, developing payment systems, and enhancing creditor rights. Access to finance by the private sector is very key. Affordably access to finance is seen by most experts as vital to private enterprises in the developing world. While some development agencies therefore see it as part of private sector development, many treat it as a separate field in its own right.
Business environment reform is also very strategic as a means of boosting private sector development in Africa. Where entrepreneurship and markets are stifled by inappropriate regulation, excessive taxation, lack of fair competition, lack of voice or an unstable policy environment, growth and poverty reduction are likely to suffer. The private sector itself can play an important role in advocating for a better business environment. Many development agencies thus, should work to strengthen the capacity of businesses and business associations to engage in public-private dialogue with governments.
Business linkages and value chain development. A value chain is a series of activities that enterprises undertake when they produce a good or service, adding value to the inputs at each stage. Value chain development thus seeks to maximize the value of any given type of product, whilst incurring the least possible cost to the producers, in the places along the production chain that give the most benefit to poor people. One way is to improve production processes. Another way is to increase the commercial linkages between the businesses that poor people own or work for, and businesses that can offer them new and more profitable opportunities as customers or suppliers.
Public-Private Partnerships is also key... It actually describes a relationship in which public and private resources are blended to achieve a goal or set of goals judged to be mutually beneficial both to the private entity and to the public. The roles of government and the private sector in economic activity and management have become clearer and inevitable. Decisions on PPPs should be transparent as possible to ensure the right framework for effective partnership.
Our common strategic goal with respect to the private sector should be to promote a pro-active and vibrant Pan- African sector that can play the lead role in energizing African economies to achieve poverty eradication through creative and productive processes that accelerate economic growth, sustainable development and deeper integration of Africa into the global economy.