13 June 2013
|
Business & Finance
Private Enterprise Federation Chalks Huge Success As It Registers Four New Members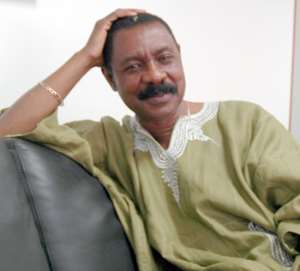 The Rejuvenated Private Enterprise Federation (PEF) under the leadership of its Chief Executive Officer, Nana Osei Bonsu has chalked a number of significant successes in less than two years after been appointed by the governing council of the association on July 1, 2011.
The Private Enterprise Federation (PEF) as a non-profit, non-political, autonomous institution and a Company Limited by guarantees under the Ghana Companies Code, Act 179, has its membership open to all private businesses and trade associations from both the formal and informal sectors of the economy.
The PEF was established in 1994 as the apex institution to forge consensus and provide the leadership voice for advocacy, on the initiative of the Association of Ghana Industries, Ghana National Chamber of Commerce and Industry, Ghana Employers' Association, and the Federation of Associations of Ghanaian Exporters; with the support of the United States Agency for International Development (USAID).The Ghana Association of Bankers (GAB) was later admitted as the fifth founding member and the Ghana Chamber of Mines (GCM) was also added as a member later on.
However document gathered from the PEF made available to the Daily Express said the major success chalked by PEF led by Nana Osei Bonsu in less than two years in renewing effectiveness of the Federation's advocacy functions and efficient leadership for the private sector, is the inclusion of four (4) new members namely, Ghana Chamber of Telecommunications (GCT), the Ghana Insurers' Association (GIA), the Association of Oil Marketing Companies (AOMC's) and the Liquefied Petroleum Gas Operators Association (GLiPGOA) as full-fledged members since October 2012.
The document adds that the Private Enterprise Federation has also chalked additional achievement during the past 19 years which includes ;
* Gaining national prominence as the lead private sector advocate by participating in key national advisory, policy planning, formulation and monitoring committees.
*In the polarized political atmosphere of 1990s, PEF helped build consensus in the country by organizing a Conference in North Carolina USA for a cross-section of the Ghanaian political and business landscape; including government leaders, members of Parliament including the Opposition, business leaders, academia and civil society representatives.
*As a consequence, the National Economic Dialogue between Government, Private Sector, Academia and Civil Society was instituted to discuss and share ideas on private sector development and national economic issues.
*PEF was instrumental through various presentations and position papers for the establishment of the original Export Development and Investment Fund (EDIF) and
*PEF played a pivotal role in extending the coverage of EDIF to include agricultural financing.
*PEF in collaboration with the Ministry of Energy, US Department of Energy and USAID established the Energy Foundation which has been instrumental in the promotion of energy efficient policies and practices
*PEF in collaboration with Family Health International undertook the USAID funded HIV/AIDS/STDs program that raised awareness about the pandemic.
*In 1997, PEF provided a Forum for dialogue on the problem of funding tertiary education in Ghana. Recommendation from the Forum served as basis for the establishment of the Ghana Education Trust Fund (GET Fund).
*Submissions of a budgetary input to substitute local raw materials for imported items to spur growth and create jobs have now materialized as an Act for implementation.
*The Federation is currently working to change the regulatory and procedures for obtaining permits, certification and licensing by businesses in the country, after years of research of the thorny subject. Various projects include Agricultural Public Private Dialogue Forum that trains Farmer Based Organizations on advocacy.These are a few of the numerous advocacy activities that the Federation has undertaken.
The document says PEF exists to support Government and private sector efforts for efficient allocation of the country's resources, provision of requisite business development services and capacity building for a sustainable private sector led national economic development.
The document emphasized that the Private Enterprise Federation also exists to influence Government Policies to effect the growth of a globally competitive and profitable private sector in Ghana.
The main five main objectives of Private Enterprise Federation outline by the document include;
1. Advocacy which aimed at influencing government policies and regulations supported by empirical data emanating from research:
*Streamlining of Cross sectoral licensing requirements in Ghana and the allocation of resources to institutions that supervise the issuance of these cross sectoral licensing
*Advocate on topics and issues that cut across all sectors of the economy and are of interest to the private sector.
2. PEF also offers Research and Publication
*A web-based interactive research platform linked to academia and other business oriented research institutions that will provide pertinent information to Private Sector businesses, Government, Development Partners, CSOs and other interested parties.
*Undertake policy research for an effective representation to government on behalf of member associations on issues of concern to the private sector, such as government deficits and borrowings, high cost of funds, capital mobilization, infrastructural deficiencies, land reforms, burdensome legal and regulatory framework, complicated tax regime, multilateral trade agreements, among others
*Monitor and identify best management practices and the strategic factors accounting for enhanced enterprise competitiveness and profitability and disseminate such best practices among member enterprises
*Provide pertinent business information such as benchmarking local business operations with others elsewhere to ascertain efficiency, market linkages into international supply chain and create a profile of the individual business to stimulate competition and attract partnerships.
3. Innovative Business Development Services
Prescribe customized Business Development Services/training to private businesses for efficient and profitable operations
4. Capacity Building and Technical Skills Training
*Provide avenues for Mentoring, Internships, Attachments and other forms of training to help build the capacities and requisite skills needed by the business community
5. Intermediation and Facilitation for Agricultural Investment.
*Assist in policy formulation through public private dialogue to identify constraints and challenges and advocate profitable and pro poor policy strategies.
Link various investors, both local and foreign with opportunities in the agricultural sector to enhance investment in commercial agriculture with protection and save guards for the small land holders and other land users. (With PEF Files)