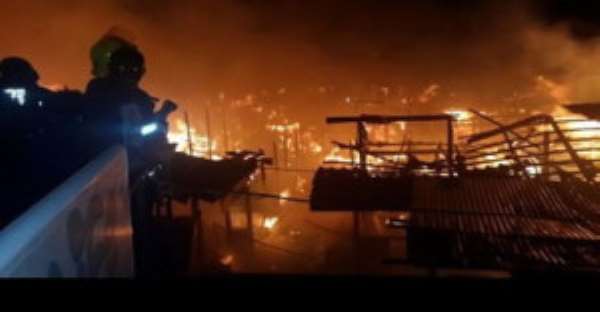 EVEN BEFORE the forensic team from the United States of America arrive in the country to assist security agencies unravel the mysteries surrounding the constant fire outbreaks in our markets, another devastating inferno in Kumasi has led to the death of three persons.
The victims, who include a Polytechnic graduate, whose name was only given as Araba, a commercial driver, Alex Frimpong, and an elderly woman in her seventies, Auntie Grace, the owner of the house, were found dead.
The fire, which gutted a six-bedroom apartment at Agric Nzema, in the wee hours of Sunday, also left six survivors, including a pregnant woman, who are receiving treatments for minor burns at the Komfo Anokye Teaching Hospital(KATH).
According to eyewitness, the fire started around 1am on Sunday, when the six people were said to be trapped inside the building.
A mother and a baby were accordingly heard shouting for help before personnel from the Ghana Fire Service arrived at the scene and managed to save three of the people who were trapped inside the house.
Meanwhile, another fire outbreak was said to have occurred at the SSNIT Flat, Asuoyeboah during which the top floor of one of the storey buildings was affected.
Fire outbreaks, in recent times, have plagued the country with major markets in Accra witnessing series of infernos that have left several property completely destroyed.
The situation has compelled the government and the Security authorities to embark on a number of measures including seeking assistance from the US government and the institution of a GH 25,000 cedis reward for vital information leading to the arrest of persons or group of individuals responsible for the Incessant fire outbreaks.