8 June 2013
|
Opinion/Feature
Ghana's Sanitation Paradox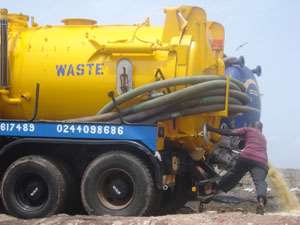 While many parts of the world take stock of their achievements in sustainable environmental practices, Ghana is still grappling with basic environmental challenges such as drains, sewage systems and solid waste which put a stranglehold on the country, despite the fantastic programmes that are designed every year to mark the World Environment Day (WED).
The WED is observed every year on June 5, to promote awareness on the importance of preserving global biodiversity and the need to identify problems related to the environment.
WED ties in nicely with UN's Millennium Development Goals of ensuring environmental sustainability by halving the proportion of the population without sustainable access to safe drinking water and basic sanitation. The target for Ghana and all other developing countries is 2015, but from indications of the dire environmental situation in the country, pundits doubt Ghana can attain the target.
This year, government officials were all over themselves delivering speeches and outlining programmes that seemingly promote environmental and sustainable sanitation policies.
According to a March 2012 newsletter of WaterAid, Ghana can only boast of a paltry one percent annual growth in sanitation, making nonsense of the target for the country to have solved  54 percent of its sanitation problems by 2015.
Over 20 percent of the population still lacks access to basic sanitation facilities like toilets; a situation which has resulted in about 5 million people openly defecating into gutters and the shores of beaches every day.
Poor management of solid and liquid waste coupled with bad attitude of citizens towards waste disposal was also turning the clock backward for the country in achieving the MDG target on sanitation, WaterAid alerts.
According to WaterAid financial report on government financing for Water Sanitation And Hygiene (WASH) programmes released in the first quarter of the year, 7 million more Ghanaians lack access to sanitation than in 1990.
Kweku Quansah, programmes officer of the Environmental Health and Sanitation Directorate of the Ministry of Local Government and Rural Development said the issue of poor sanitation in the country was a result of people not having toilets in their homes.
He said the country currently was not doing too well with sanitation, as only 15 percent of Ghanaians have latrines in their homes.
'We expect households to focus on building latrines. A lot of emphasis has been placed on latrines in public places and communities which for us is not the best and that has led to the high increase in open defecation in our cities,' he said.
Kwasi Acheampong, a 26-year-old tenant who lives in a compound house with 26 others and their families said he defecates in the open because there is no toilet facility in his house. He said the closest public toilet facility was located about a kilometre away from his house.
Another resident of New Town, a community in Accra, 68-year-old Gabriel Mododzi, explained that the distance people have to walk before reaching the nearest public toilet facility was one of the causes of open defecation.
He also noted that most people were not prepared to part with 10 pesewas to visit the public toilet or 20 pesewas for the privately built toilets.
Kwaku Nyarko, 31, a drivers' mate said he defecates in the gutter because there are 40 tenants where he lives at Kokomlemle but no toilet facility.
'I have to walk for at least seven minutes to go and queue at the nearest public toilet at Nima.  I can't wait any longer by the time I get there,' he said.
Rubbish and garbage are also seen accumulated in corners of urban cities and market places left at the mercy of the weather.
A Hopeless Sanitation Picture
Quansah, who believed the situation was hopeless, said: 'As for the MDG for sanitation, it is difficult and we might not be able to achieve. That is why for us in the sector, our main concern is how we really ensure that people who do not have access to sanitation get access to sanitation.'
He said sanitation was 'about promotion; you have got to really continually promote sanitation. Let sanitation be as attractive as anything you have got. Create the demand for people to like sanitation.'
In a typical urban Ghana, the few public toilets are located several kilometers from central points while waste disposal are 'free range'.
The absence of waste disposal points has forced urban dwellers to resort to disposing both their liquid and solid wastes into gutters and drains.
Places like the Kawukudi soccer park located a few meters away from the Ayawaso East Sub-Metro office, the Paloma drain and the Odaw drain have become places of convenience for people who do not have sanitation facilities in their houses.
Quansah said the private sector has taken up the challenge of waste disposal but there is just too much waste, particularly liquid waste: '80 percent of sanitation services in solid waste collection, transportation and collection are done by the private sector which has some level of expertise and equipment and it is really helping us. The issue of collecting liquid waste from our cesspit tank is another big problem'.
The country currently dumps its liquid (faecal) matter into the sea because there are no proper recycling facilities to manage and treat raw faeces from homes.
The location known as Lavender Hill receives about 20 cesspit emptiers, which discharge raw faecal matter every day of the week with each paying GH¢19.00 per trip.
'The use of Lavender Hill is an eyesore and we should be able to clear it and also most of our intermediary disposal sites,' he said.
A video documentary by the Ghana Coalition of NGOs in the Water and Sanitation Sector (CONIWAS) indicated that the smell from the dumping site was making life unbearable for residents who are pleading with government to intervene by building an appropriate waste treatment and disposal plant.
Government Funding For Sanitation Sector
Spending on sanitation in Ghana is heavily dependent on foreign donors.  A Recent data released by WaterAid indicated that $52 million per year was being spent on sanitation in Ghana. Of the 52 million, approximately 3.5 percent or 1.8 million was provided by the government of Ghana while the remainder was solely funded by foreign donors.
The heavy reliance on foreign funds have made the Ghanaian comfortable and have almost relegated sanitation matters to the background with the country showing  very little commitment in funding sanitation improvement programmes.
According to the official newsletter of WaterAid, government, between 2008 and 2011, spent an average of 0.34 percent of its Gross Domestic Product (GDP) 116.45 million Cedis on Sanitation and water combined.
On the heels of the December elections the Government as well as most of the political parties, made promises to improve Water And Sanitation Hygiene (WASH) and propel the country to achieve the MDG WASH target.
The New Patriotic Party (NPP) had a WASH goal to ensure that every Ghanaian had access to potable water with a strategy to implement what they called a strengthened National Water Policy, among others.
The National Democratic Congress (NDC) in its 2012 manifesto titled, 'Advancing the Better Ghana Agenda' first prided itself of its achievements in water, sanitation and hygiene in the area of implementing community-led total sanitation and the allocation of 700 assorted waste management equipment to all district assemblies from 2009 to 2012.
The manifesto further stated that sanitation would take centre-stage of government social policies and programmes over the next four years with a promise to establish a national sanitation authority as an autonomous agency under the local government service to work with MMDAs on a coordinated harmonized sanitation policy.
These were all beautiful plans that have basically become paper tigers.
Ibrahim Musah, head of Policy and Partnership at WaterAid Ghana said since 2010 the government of Ghana has designed several sanitation policies, except they have all been kept on the shelves:  'The sanitation for all compact developed in 2010 revised national environmental and sanitation policy has been approved and laid out.
'What is not forthcoming and what has become an issue is the releasing of funding to ensure that policies are implemented. Unfortunately this remains a mere saying because as at the end of 2011 when CONIWAS made an assessment of the government commitment it was realized that government was doing barely 46 percent.'
He said although government had made provision for sanitation, the issue was how the environment directorate of the Ministry of Local Government and Rural Development would be able to access the funds for use, as 'the funds do not just get to them,' he noted.
Way forward
Musah said the populace must change their attitude towards sanitation management and government should increase funding for the sanitation sector.
'Every individual, from your room, your house, from your community level, try to do what you can do to improve environmental sanitation so that we will be able to minimize the rampant abuse of the environment,' he said.
He noted that they 'have dialogue with collaborators at district assembly level to ensure that by-laws are enforced for landlords to construct houses with improved sanitation facilities so that some of these problems can be minimized.'
 By Jamila Akweley Okertchiri