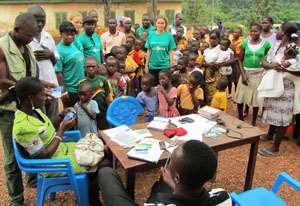 Beneficiary children and volunteers during the registration exercise
ABOUT 440 vulnerable children from four deprived communities in the Amansie West District of the Ashanti Region have benefited from free registration of the National Health Insurance Scheme (NHIS).
The beneficiary communities are Kwakokrom, Atobrakrom, Nsiana-Kaniago and Abodom-Domi.
Projects Abroad, an NGO working to restore dignity to vulnerable children by providing them medical care and education, gave the underprivileged children the chance to access health care free of charge.
Emily Leben, a volunteer of the NGO, solicited the funds from family members and friends to pay the premium of the beneficiaries.
The mass registration of the insured children was done alongside a free health screening and education programme of Projects Abroad and its partner, Gospel Rescue Network (Grenet), a Christian NGO on Thursday.
Members of the four communities also took part in the health screening exercise with various tests ran on Hepatitis B, sugar level, blood pressure and fat percentage.
Emily Leben told DAILY GUIDE she was touched by the plights of the people in those communities, especially the children, when she and other colleagues went there for an outreach programme.
Regional Coordinator of Projects Abroad, Gabriel Ayeh-Fianko said the move formed part of the NGO's focal programmes to improve the welfare of vulnerable people, fight human rights abuses and empower journalists.
Founder and leader of Grenet, Atta Yamoah Afrifa said Grenet as a Christian NGO was not only interested in the people's spirituality but also their well being as well, hence taking upon themselves to give social support.
According to him, Grenet found it expedient to partner Projects Abroad to give the people access to quality health care.
He called on other Christian organizations to move to the rural communities for evangelism work and not to concentrate at the urban centres.
 From Ernest Kofi Adu, Kwakokrom