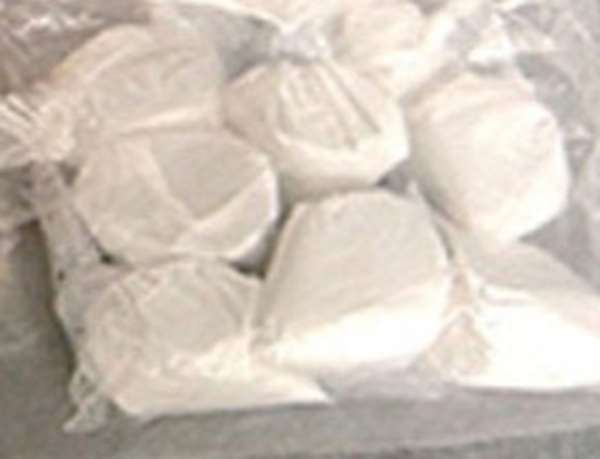 Cocaine
IT HAS now emerged that Solomon Adelaquaye, Managing Director of Sohin Security Company and an alleged financier of the ruling National Democratic (NDC), was grabbed with drugs in the United States of America after a series of undercover operations.
Adelaquaye's Security firm, Sohin Security Company, had until last Monday provided security services at the Kotoka International Airport and other airports under a controversial contract approved by the Ghana Airport Company Limited (GACL). This is a hugely compromised security at the nation's gateway which allowed narcotics to pass through Ghana with reckless abandon.
He was arrested and charged together with Colombian Samuel Antonia Pinedo-Rueda and two Nigerians, Frank Muodum and Celestine Ofor Orjinweke as part of drug trafficking syndicate in United States District Court Southern District of New York.
According to official sources, the four drug traffickers were arrested in May following a joint US-Ghanaian collaboration after Adelaquaye, who was in charge of security at the airport, had received a total amount of $10,000 from US undercover agents to allow them to take drugs through the Kotoka International Airport.
The charge sheet of the drug barons indicated that on or about February 1, 2012, in Accra, Pinedo-Rueda and Muodum met with two confidential sources (labeled as CS-1 and CS-2), who work for the United States Drug Enforcement Agency (DEA).
At the said meeting, CS-1 introduced Pinedo-Rueda and Muodum to CS-2, who posed as a Colombian narcotics trafficker who was interested in obtaining Afghan heroin to sell in New York.
Again, on February 2, 2012, the alleged drug barons told the undercover agents that Adelaquaye was responsible for security at the Kotoka International Airport and that one of the agents (CS-2) could safely move heroin through the airport.
According to the facts available to the New York District Court, from about February 8, 2012 to February 22, 2012, Pinedo-Rueda spoke by phone with CS-2, which the latter recorded.
In the said conversation, it was agreed that CS-2 would pay Pinedo-Rueda $28,000 for one kilogram of heroin and also pay Adelaquaye $8,000 to guarantee the safe passage of the heroin through Kotoka International Airport.
The New York Court was also told that on or about February 21, 2012, in Accra, Ghana, Pinedo-Rueda, Muodum and Orjinweke met with CS-1 and a third confidential source working for the DEA (CS-3).
During the meeting, CS-3 posed as CS-2′s New York City-based heroin distributor who would transport the heroin to New York City for distribution in and around Manhattan and Bronx.
On February 22, 2012, the undercover agents gave Orjinweke $28,000 cash at a hotel in Accra for the supply of the heroin.
The New York Court was further informed that at a meeting on February 25, 2012, at Adelaquaye's office at the airport in Accra, the US agent (named as CS-3), indicated he had hidden 1kg (2lb 2oz) of heroin in his laptop.
Following this, Adelaquaye then instructed CS-3 to give the computer to an associate of his and after CS-3 had passed through the security checkpoint at the airport, the laptop was returned to him.
'Also at that meeting, CS-3 gave Adelaquaye $6,000 (£3,900) cash to guarantee the safe passage of the heroin through the airport,' the court was informed.
The US undercover agents, according to the facts before court, later sent Adelaquaye a further $4,000 from New York.
The facts indicated that at a separate meeting in Accra in May 2013, another US agent, posing as a Colombian dealer, offered to provide Adelaquaye, Muodum and Orjinweke with 3,000kg of cocaine, valued at $25,000 per kilogram, in exchange for an amount of heroin of similar value.
"Adelaquaye, Muodum, and Orjinweke told CS-2 (the agent) that they could transport the heroin to the United States by airplane in multiple shipments of 25kg each," the court was told.
According to the US Drug Enforcement Agency, Adelaquaye and his collaborators were arrested in New York while Pinedo-Rueda was apprehended in Colombia, awaiting extradition to the US.
The West African sub-region is gradually emerging as a busy route for drugs from Latin America to Europe and the US with cartels taking advantage of the region's weak border controls.
In October 2011, The Gambia sentenced eight foreigners to 50 years each in prison for trying to smuggle two tonnes of cocaine from Latin America to Europe.
By Awudu Mahama