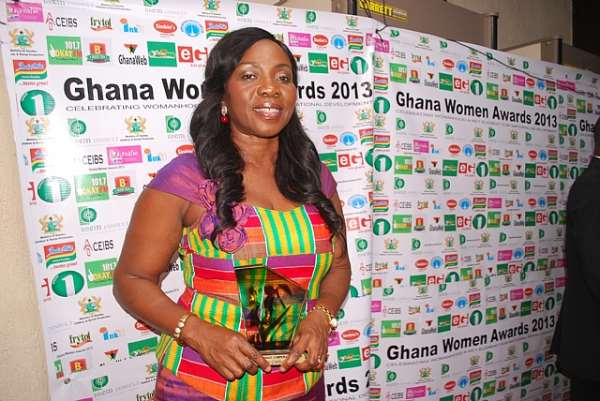 Ms. Esther A.N. Cobbah
Accra, 3rd June, 2013 - Chief Executive Officer of Strategic Communications Africa Limited (Stratcomm Africa) Ms Esther A.N. Cobbah was adjudged the Outstanding Corporate Woman of the year at the 2013 Ghana Women Awards ceremony held in Accra last Friday.
The event, which was organized by Brein Consult in collaboration with the Ministry of Gender, Children & Social Protection, is to recognize selfless and dedicated Ghanaian women who have excelled in their various professional disciplines. Ms Cobbah's award was presented to her by Kelly Whiston, a representative of the US Ambassador to Ghana.
Ms Cobbah, in her brief remarks, expressed appreciation to God for His blessings, direction and for the many successes that Stratcomm Africa has achieved over the years. ''I know I could not have reached where I am today just on my own human effort and I thank God for how far He has brought me'.
She added 'Stratcomm Africa's leadership position in Ghana's communication industry is well acknowledged. With deep roots in Ghana, Stratcomm Africa is steadily spreading out internationally, and our best years are yet to come'.
A citation on the award states that the Outstanding Corporate Woman of the Year award is conferred on Ms Esther Cobbah because she continues to demonstrate a unique character and image that epitomize an ideal corporate personality. 'Your interpersonal relationship, visionary leadership and ability to synchronize modern corporate values with positive African values are exceptional.'
Ms Cobbah has led Stratcomm Africa successfully over the past 19 years since May 13, 1994. The organisation is home grown with international expertise. Stratcomm Africa, will be celebrating its 20 years of existence as a leader in the communications industry next year. The company, which started with only one employee, now provides employment to over 50 workers.
The CEO of Stratcomm Africa has also received several awards including the 2010 Best Entrepreneur in media communications award.
Editor's Note:
About Stratcomm Africa
Strategic Communications Africa Ltd (Stratcomm Africa) is a specialized communication and reputation management agency dedicated to using communication as a means of enhancing performance in various contexts. Stratcomm Africa specializes in evolving and implementing systematic and comprehensive communication strategies for public and private companies, as well as governmental institutions, in both national and international settings.
The company also employs culturally sensitive approaches in its communication strategy development and implementation to impact the bottom line of many organizations.

Media Contact
Emma Wilhelmina Parker Halm
Corporate Service Officer
Tel: 024-3145616
Email: [email protected]