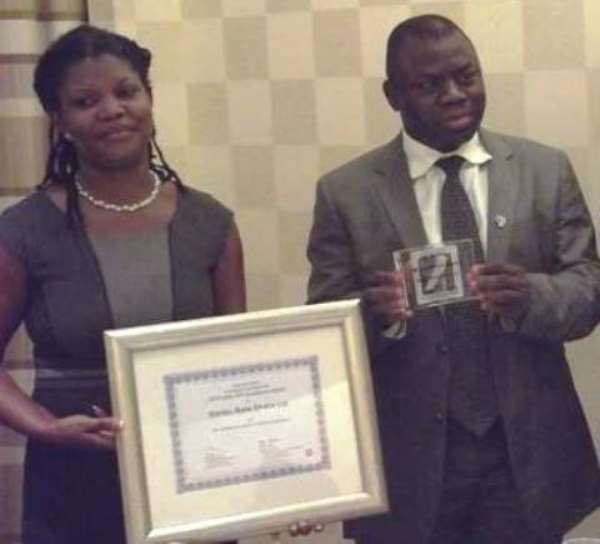 Doris Dzeha, Manager Operations and Alhassan Andani, CEO Stanbic Bank displaying the award plaque and certificate
Stanbic Bank Ghana, a member of the Standard Bank Group, Africa's largest bank has won Deutsche Bank's certificate of excellence for US dollar-based cross border 'Straight Through Processing' (STP) payments for the year 2012.
This is the second consecutive time Stanbic Ghana has won this prestigious award, having won it the previous year.
The award is a plaque and certificate presented to the bank by Charles Weller, Director at Deutsche Bank and Regional Head of Cash and Trade Operations for West and Central Africa, and Gary Pickard, Vice President for Cash Management and Trade Finance Financial Institutions at a ceremony in Accra.
Mr Weller said: "The award is in recognition of international trade payments with a high STP rate in excess of 97% excellence for 2012. It places Stanbic in same the category with such institutions as Bank of America, Shangai International Bank and HSBC. I am delighted to present this plaque and a certificate for this achievement."
He described Ghana as a significant part of the West African operations for the Deutsche Bank Group.
Receiving the award Alhassan Andani, Chief Executive Stanbic Ghana said: "We are humbled by this recognition which has come after a rigorous process. As work at growing the volumes passing through, it sets the benchmark for greater effort."
Stanbic Bank also won the award for 2011. The award which is in its eighth year is given to 200 banks globally for outstanding performances and high volume transactions with respect to US dollar based annual trade finance payment processing.
Deutsche Bank is the world leader in foreign exchange transactions with over 54 percent of global volumes.