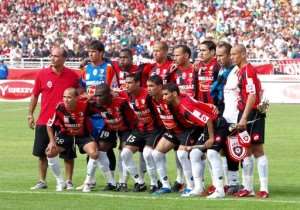 USM Alger has won its first international title last Tuesday.
The Algerian team won the trophy of the Arab Club Championship (UAFA), defeating Al Arabi of Kuwait, 3-2.
The Arab Football Union (UAFA) has provided $ 600,000 to the Algerian club for its success. According to Rabah Haddad , the vice president of the USMA, the money goes to the players:
"We had agreed with the players, even before playing the final return, to offer them the full premium of the competition if they win, while warning that in case of failure, the $ 400,000 reserved for the loser would be transferred into the accounts of the club, " said the vice president on Chourouk TV.
"The cup of UAFA is less tiring than the African competition, and do not hinder us to achieve our goals in the national championship, the reason why we opted for the Arabic competition for the next season," said Ali Haddad , Chairman of the Board of Directors of the USMA.