18 May 2013
|
Regional News
GJNMOG Commends Prez Mahama Over Galamsey Taskforce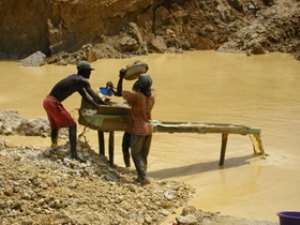 The Ghana Journalists Network on Mining, Oil and Gas (GJNMOG), advocacy network, has commended the President, John Dramani Mahama, for inaugurating a Ministerial Task Force to deal with galamsay activities and to arrest persons involved in illegal trade or business in the country.
GJNMOG however appealed to the President to ensure that the Chinese who shot and killed two people at Obuasi in the Ashanti region in connection with illegal mining face the full rigorous of the law.
At a media briefing in Sunyani, the National President of the Network, Ambassador Raphael Godlove Ahenu Jr., bewailed the situation where foreigners especially the Chinese had taken over galamsay business in the country whose uncontrolled activities have opened deep trenches across the length and breadth of the country thereby impacting negatively on agricultural productivity and water bodies.
According to him, lands and forests are indiscriminately being damaged thereby creating non-natural lakes, which have become death traps to people in the affected communities. He noted that even though the country's laws prohibit foreign nationals from engaging in small-scale mining, which is reserved for Ghanaians only, the law is not being forced.
Ambassador Ahenu Jr. therefore expressed worry over the inability of government to stop galamsay activities, especially Chinese nationals who are polluting river bodies such as river Pra, which is costing Ghana Water Company huge sum of money in dealing with the pollution of Pra river and also affecting water supply to people of Sekondi and Takoradi.
He challenged the Ministerial Task Force to live up to expectation by ensuring that they execute their assignment perfectly to help bring relief to Ghanaians especially smallholder farmers whose farm lands are being destroyed by galamsay operators.
Ambassador Ahenu Jr. who the Founder/CEO of Global Media Foundation, human rights and anti-corruption media advocacy organization, commended the Deputy Western Regional Minister Alfred Ekow Gyan for arresting five persons including four foreigners, for allegedly engaingng in illegal mining at Sekyere Obuasi in the Wassa East District.
The National President of GJNMOG therefore prescribed a rigid punishment for the suspects if they are found culpable of the law.