14 May 2013
|
General News
Advocacy group warns of unrest in Kumasi if...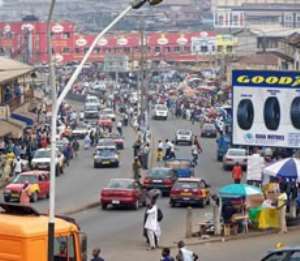 A development advocacy group based in Kumasi, Ashanti Development Union (ADU), is warning that citizens in the region may be forced to protect themselves if the police fail to deal with the perceived insecurity in the shortest possible time.
Three people have in the past week been killed in the region from two different shooting incidents.
On Monday, residents in Atwima Boko, a suburb of Kumasi lynched two suspected armed robbers.
In a statement condemning the violence, ADU warned of a general breakdown in law and order if the situation is not brought under control immediately.
Mr Edmond Oppong-Peprah, Coordinator of the Union, told told Joy News "there is also the general feeling that the Police is not doing enough to protect lives and properties".
Mr Oppong-Peprah said ADU is concerned that that perception could cause Kumasi residents to live in fear.
But criminologist, Professor Ken Attafua, says there is no justification yet for residents in Kumasi to lose faith in the police.
"These killings do not give a legitimate basis for a sense that the security agencies have failed in their duties to protect us", he stated.
But speaking to the Daily Graphic on Monday, Ashanti regional Police Commander, Deputy Commissioner of Police (DCOP) Mr Augustine Gyening said "The few cases of crimes reported in the metropolis must not be misinterpreted as a crisis situation."
He stressed that the peace and security of people in Ghana's second largest city has not been punctured in anyway.
Mr Gyening said in spite of the "few unfortunate incidents" in the city in recent times the situation in the municipality could still be describes as normal.
Prof Attafuah believes, however, that the operations of the Police are in sheer proportion to the inadequate resources and facilities available to them and the demands made on them by the residents in the Kumasi municipality.