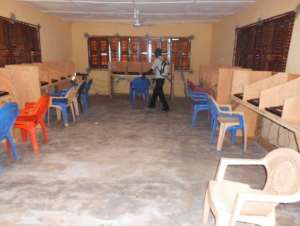 The Yonso Project, a rural community development based organization in Ghana has partnered a US based organization, Techonology Services Corps to provide computer labs to rural schools. The two organizations have supported five rural communities with a computer labs to support the education of children in these communities.
The beneficiary communities include Bodwease in the Sekyere Kumawu District, Agona Akrofoso, Asamang and Bepoase all in the Sekyere South District and Apaah in the Mampong Municipal Assembly. In all, there were 90 commputers shared among the communities. Each computer lab had between 15 to 20 computers.
The Country Director of the Yonso Project, in his speech made it clear that, it is not possible to fight poverty without given attention to quality education. He however expressed worry about the way the country's educational system has become so much politicized leading to frustration of innocent children and parents whenever there is a change in government. He therefore called on the government, civil society organizations, media houses to call for a national policy which will govern the country's educational system and not any political parties manifesto.
Mrs Barbara Gurley, Director of the Technology Services Corps in her speech entreated all to ensure there is quality education. He saw most of the rural children as very smart who have great potentials. The District Director of Education for Sekyere South District also expressed their gratitude to the two organizations and also assured them of the government's support.
The Chief of Akrofoso thank the two organizations for their support and urged them to do more to support education in the rural areas.