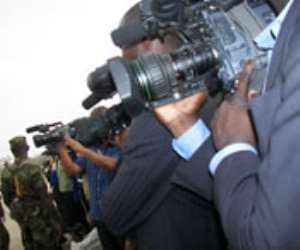 Research Output Dissemination: The Role of Powerful News Media
by
Adams Bodomo
Powerful news media, if well-horned and -handled by academics and other research scholars, can play a pivotal role in research output dissemination and popularization to achieve the quiet revolution that most scholars want to trigger with their research output. I illustrate this point in this article with a surprising run of events following a recent set of articles that I published comparing Diaspora remittance funds with Official Development Assistance (ODA) funds to "developing" countries by the "developed" world.
In the article, variously titled "African Diaspora Remittances are Better than Foreign Aid Funds" and "Sending Money Home Beats Foreign Aid", I argued that Diaspora remittance funding is not only larger than ODA funding but that it is indeed a better source of development for Africa. This article, much to my pleasant surprise, seems to be causing a quiet revolution beyond Africa, in terms of perceptions and even in terms of a refocus of research concerns in many subject areas in the Humanities and Social Sciences and new initiatives in a few international organizations. It is very interesting to note that barely a month after its publication, the World Bank has started a new initiative on Migration and Remittance!: http://www.worldbank.org/en/news/press-release/2013/04/19/world-bank-launches-initiative-on-migration-releases-new-projections-on-remittance-flows
The research about the importance of remittance was conducted between 2006 and 2011 and only slightly reported in my new book on the African Diaspora in China (Africans in China, Cambria Press, NY, 2012): http://www.cambriapress.com/cambriapress.cfm?template=4&bid=487
Then an article to be produced based on my research was commissioned by a new research and advocacy group called Good Governance Africa (GGA): http://gga.org/analysis/sending-money-back-home-beats-foreign-aid
Indeed, an earlier version of this article was put up in my writers' column on the ModernGhana.com website in early March: http://www.modernghana.com/news/449528/1/african-diaspora-remittances-are-better-than-forei.html
Whereas many African newsgroups and websites republished the GGA version of the article (with or without permission from GGA), the "breakthrough" actually came with a BBC interview and report on the research, both in print and on radio: http://www.bbc.co.uk/news/world-africa-22169474
This in itself shows the important role of the news media, especially powerful Western media, on research dissemination and general research scholar recognition. The book that I published in 2012, while very well reviewed by some specialist journals and websites was largely ignored by western media like BBC, CNN and even many African media. The March 2013 version of the remittance article, even though published in Ghana/on a Ghanaian website (I always strive to make my research available in home country of Ghana by, for instance, donating all my published books to the library of my alma mater, The University of Ghana, Legon), was also largely ignored by the Ghanaian/African media. The early April 2013 version of the article on GGA website, like the earlier outputs, was also to a large extent ignored by the international media, though a good number of African newspapers like the Kenya Star carried it: http://www.the-star.co.ke/news/article-114804/why-money-sent-home-better-foreign-aid
Then all hell broke loose (in the positive sense of the expression) when world-famous reporter, Mark Doyle of the BBC, tumbled on the Kenya Star version of the paper! He called me up and interviewed me on April 16, and by April 17, his article was online and BBC radio had contacted and interviewed me: http://www.bbc.co.uk/news/world-africa-22169474
All hell continued to break loose: I got more than 20 email and phone inquiries and/or interviews from many journalists, research students, and journal editors, such as those of the World Economics journal which wants to carry a front page/cover story based on a much expanded article of the remittance research at a later date in its special issue on Remittance:http://www.world-economics-journal.com/
And finally, and to re-iterate, I am really amazed that just barely a week after this BBC encounter and a month after the Modern Ghana and GGA versions of the publication, the World Bank itself, from which my research assistants, editors, and I got and fine-tuned most of the statistics, started a new initiative on Migration and Remittance, as mentioned above, on April 19. In the GGA article, whereas it was found that total global remittances to developing countries was 351 billion dollars in 2011, with this figure growing to 401 billion in 2012, and with Nigeria and Egypt alone each getting 21 billion dollars in 2012, the World Bank now predicts that global remittances to developing countries will reach 515 billion dollars in 2015: "Remittances to developing countries are expected to grow by an annual average of 8.8 percent for the next three years and are forecast to reach $515 billion in 2015": http://www.worldbank.org/en/news/press-release/2013/04/19/world-bank-launches-initiative-on-migration-releases-new-projections-on-remittance-flows. This figure would most certainly be larger than any reasonable ODA funds forecasts for 2015, more so as donor country economies are not doing very well in this second decade of the 21st Century.
All this goes to show that the powerful news media constitute a double-edged sword for the research scholar: as many scholars often experience, they can grossly distort one's research (though this was not the case with the BBC report of my work) but they can also help one's research get the well-deserved recognition that can go a long way to starting the quiet revolution of ideas that every scholar hopes to trigger with each new piece of research output.
------
Adams Bodomo is Director of the African Studies Programme at the Univeristy of Hong Kong and author of two new books on Africa and its relations with the world: THE GLOBALIZATION OF INVESTMENT IN AFRICA (2011, Los Libros de la Catarata, Madrid) and AFRICANS IN CHINA (2012, Cambria Press, New York)