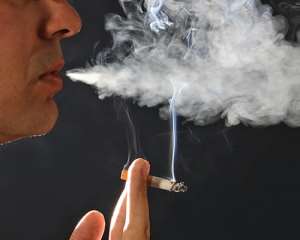 There is overwhelming evidence linking lung cancer to tobacco smoking. Tobacco smoking continues to remain a major risk factor for lung cancer. Among cancers, most deaths every year are attributed to lung cancer, followed by stomach, liver, colon and breast cancers globally.
Close to 1.4 million people die every year due to lung cancer. Centre for Disease Control and Prevention (CDC) warns that tobacco smoking causes about 90% of lung cancers. People who smoke are 15 to 30 times more likely to get lung cancer or die from lung cancer than people who do not smoke.
"Tobacco smoking is biggest risk factor for lung cancer" stressed Dr Nguyen Viet Nhung, Deputy Manager of Viet Nam's National TB Programme and Vice President of Viet Nam Association Against Tuberculosis and Lung Disease (VATLD).
Dr Nhung spoke with Citizen News Service - CNS at the 4th Union Asia Pacific Region Conference on Lung Health in Hanoi, Viet Nam (APRC 2013). Dr Nhung who is also the Deputy Director of National Lung Hospital in Viet Nam said that lung cancer ward is always full-to-capacity and overburdened despite all efforts. National Lung Hospital is now using latest techniques such as Fluorescence bronchoscopy to detect lung cancers as early as possible.

Although surgery offers the best prospect of cure for patients with early stage tumours, the majority already have advanced and inoperable disease by the time they develop symptoms and present to their general practitioners. The five year survival rates for patients with lung cancer have remained depressingly low at 7–13%
DETECTING LUNG CANCER EARLY
A multi-centre study conducted at the Mayo Clinic, Johns Hopkins Hospital,and Memorial Sloane-Kettering Hospital, failed to demonstrate improved long term survival in lung cancer patients who had undergone intensive screening with sputum cytology. Sputum cytology perhaps fail to detect lung cancer at very initial stages and by the time it gets diagnosed, a lot of damage has taken place reducing survival and adversely affecting long-term treatment outcome. Fluoroscence bronchoscopy helps in diagnosing lung cancer at very initial stages, which might get otherwise missed in sputum cytology.
REDUCING RISK FACTOR: DOING GOOD TOBACCO CONTROL
Le Thi Thu, Project Manager, HealthBridge Foundation of Canada, Vietnam Office, spoke with CNS. She said Viet Nam is going to enforce a comprehensive tobacco control law in the country from 1st May 2013. Viet Nam National Assembly had passed its first comprehensive tobacco control legislation on 18th June 2012. Thu informed CNS that this law includes strong provisions on smoke-free public places; pictorial graphic health warnings on all tobacco products; ban on certain forms of tobacco advertising, promotion and sponsorship; increase in taxation on tobacco products to help generate resources for a health promotion fund, among others. Viet Nam had ratified the WHO Framework Convention on Tobacco Control (WHO FCTC) in March 2005 and domestic laws need to be strictly enforced too. Implementation of domestic law will be the other challenge we need to be ready for, said Thu.
SECONDHAND SMOKE CAUSES LUNG CANCER TOO
Being polite does not mean giving up our right to breathe in clean air and increase our own individual risk of life-threatening diseases associated with tobacco smoke. Evidence is mounting in support of smoke-free policies that empower non-smokers to protect their health from tobacco smoke. Smoke from other people's cigarettes, pipes, cigars or 'beedi' (secondhand smoke) also causes lung cancer. When a person breathes in secondhand smoke, it is like he or she is smoking. Two out of five adults who do not smoke and half of children in the United States are exposed to secondhand smoke. According to the World Health Organization (WHO), 600,000 people lose their lives due to secondhand smoking every year globally.
QUITTING SMOKING REDUCES RISK OF LUNG CANCER
People who quit smoking have a lower risk of lung cancer than if they had continued to smoke, but their risk is higher than the risk for people who never smoked. Quitting smoking at any age can lower the risk of lung cancer. Using other tobacco products such as cigars or pipes also increases the risk for lung cancer. In Indian context, use of 'beedi' smoking is also linked to lung cancer. Scaling up tobacco cessation services and integrating it with general health services to keep them sustainable, is warranted to help those willing to get rid of tobacco addiction successfully.
CNS also spoke with Dr Vladimir Anikin, Consultant Thoracic Surgeon, The Royal Brompton and Harefield Hospital, NHS Foundation Trust, London, at APRC 2013. Dr Vladimir Anikin, who is presenting at APRC 2013 on "Endobronchial cryotherapy in thoracic surgical practice" is making a significant contribution in reducing the morbidity of people who have advanced lung cancer. Obstruction of breathing pipe (medically known as 'endobronchial obstruction') is a direct result of smoking, and is generally associated with advanced lung cancer, said Dr Vladimir Anikin.
Dr Anikin added: "Endobronchial obstruction may cause significant distressing symptoms and can be fatal." Simply put, his main contribution is towards helping people with lung cancer by surgically opening their bronchial lumen (by a process called 'Endobronchial cryotherapy') and allowing them to breathe. Endobronchial cryotherapy may be used to control symptoms or eliminate the cause. His studies have concluded that cryotherapy gives rapid resolution of symptoms of endobronchial obstruction and can be carried out as a day-case procedure in the majority of patients with very low hospital mortality and morbidity.
POSITIVE IMPACT ON HEALTH OF GOOD TOBACCO CONTROL
Let us not forget, tobacco smoking does not only cause lung cancer but is associated with a range of life-threatening ailments. Smoking can cause cancer almost anywhere in the body. Smoking causes cancer of the mouth, nose, throat, voicebox (larynx), esophagus, bladder, kidney, pancreas, cervix, stomach, blood, and bone marrow (acute myeloid leukemia). Cardiovascular diseases (heart disease and stroke), aggravation of diabetes and tuberculosis, chronic obstructive pulmonary diseases (COPD), respiratory diseases, asthma, are among other serious health hazards related to tobacco use.
Apart from enforcing comprehensive and strong laws on tobacco control at all levels, it is also important for countries to ensure that health policies are continued to remain protected from tobacco industry interference. WHO FCTC empowers governments to use WHO FCTC Article 5.3 in this regard.

Dr Nguyen Viet Nhung, Deputy Manager, NTP Viet Nam

[1]SMOKING
Editor's Note:
Bobby Ramakant, Citizen News Service - CNS
(The author writes for Citizen News Service - CNS, manages the Global Stop-TB eForum, and is supported by the Lilly MDR TB Partnership to provide on-site coverage from the 4th Union Asia Pacific Region Conference on Lung Health in Hanoi, Viet Nam. Email: [email protected], website: www.citizen-news.org)