10 April 2013
|
Opinion/Feature
Engendering inclusiveness in access to Business Credit- The plight of PWDs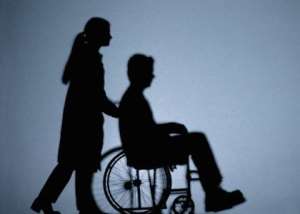 A GNA feature by James Amoh Junior
Navrongo (U/E), April 9, GNA- In their quest to promote and grow their businesses, Persons with Disability (PWDs) in Kassena Nankana Municipality of Upper East Region, have difficulties in equitable access to business finance credit to facilitate their economic sustainability.
Laws promoting the rights and dignity of persons with disability are also violated as most banks where they go to do business have no disability friendly facilities.
The anomaly tends to endanger the lives of PWDs.
Throughout history, there have been conscious efforts at safe guarding the sanity of human life, including the rights of persons with disability.
The significance of these measures find expression in international and national legislations, including Persons with Disability Act, 2006 (Act 715) and United Nations Convention on the Rights of Persons with Disability.
The aim of these laws is to promote, protect and ensure the full and equal enjoyment of all human rights and fundamental freedoms by persons with disability and to promote respect of their inherent dignity.
The challenge however is that, there are no measures to give adequate meaning to these Acts and how to remedy their violation.
To give meaning to the economic sustainability of PWDs, Business Sector Advocacy Challenge (BUSAC) Fund, is liaising with Navrongo Physically Challenged Persons Cooperative Multi-Purpose Society (NPCPCSL) to provide livelihood for members.
NPCPCSL aims at addressing the unequal access to information on credit opportunities and access to credit due to discrimination against PWDs.
To this effect, members conducted a research as a step to ascertain the veracity of the economic challenges on the ground and to find solutions to them.
The findings of the research was disclosed during a workshop of PWDs and major stakeholders in Kassena Nankana Municipality to work towards improving conditions of disabled entrepreneurs in accessing credit.
The research revealed that less than three per cent of the members of the disability group got access to credit from existing credit sources in the municipality.
On the specific issue of discrimination, the study identified poor attitude of staff of credit facilities and banks towards physically challenged persons, poor handling of complains and concerns of PWDs by financial institutions and lack of disability friendly structures at these corporate entities.
Mr Sylvester Nayemse, Chairman of NPCPCSL told Ghana News Agency in an interview that almost all credit facilities in the municipality are not disability friendly and so visually impaired persons have difficulties gaining access to these bodies.
He said a credit form he had to fill at a firm was too complex that eventually he was not granted the financial assistance.
Mr Nayemse said although members of the Society had explored potential employment opportunities in their communities and undergone skills training to embark on the income generating activities, most often they were unable to get access to credit facilities.
He called on the financial institutions to as a matter of urgency review regulations and requirements in accessing credit facilities to enable persons with disabilities to enjoy the facilities.
Mr Nayemse called on government to expedite action on the implementation of laws that protect the interests of PWDs to empower them to be actively and effectively part of the society.
Mr Vincent Subbey, Regional BUSAC Grant Monitor who addressed participants at the stakeholder meeting called for an efficient mechanism in dealing with the challenges regarding access to credit by PWDs.
In this regard, he called on persons with disabilities not to see themselves as unproductive and incapable of contributing in a positive way in the society but rather work collectively and actively to improve their living conditions.
'Until a disability desk is created at various institutions including banks and other financial institutions to cater for the needs of persons with disabilities, it would be difficult for these vulnerable persons to access credit facilities for the improvement of their livelihoods and for economic development,' he observed.
The Disability Act aims at creating an enabling environment for the full participation of PWDs in national development and promote disability friendly housing facilities.
Mr Subbey observed that, the implementation of the Act by government institutions in regard to accessibility of structures was long overdue.
He called on the Disability Council to see to the operation of these laws.
In encouraging inclusiveness in access to business credit by PWDs in the Kassena Nankana Municipality, BUSAC Fund is calling on non-governmental organisations especially the Centre for Social Mobilisation and Sustainability Development and NPCPCSL to develop a shared understanding of credit sources in order to address the various challenges identified.
Advocacy should be driven by a shared understanding of the provisions of the Ghana Persons with Disability Act, 2006, Act 715 and relevant portions that places emphasis and skills development on the sustainable employment of PWDs.
The advocacy efforts should be targeted at relevant institutions and organisations, including local banks, local authorities and their sub-structures, Local Economic Skills Development Programme and National Board for Small Scale Industries.
There should be continuous sensitisation on the Disability Act with focus on stigma and discrimination in an attempt to remedy the challenges encumbering PWDs in the Municipality and the country as a whole.
By this, Government should hasten the effective implementation of the Disability Act without further delays and ensure strict adherence to enable PWDs to contribute meaningfully to national development.