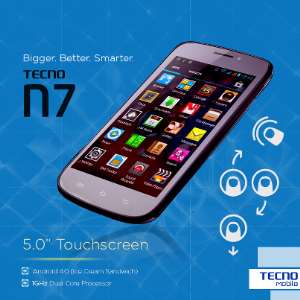 On 10th April, 2013, TECNO Ghana, a leading dual SIM mobile phone brand announced the new 3.75G Android smartphone TECNO N7 at the TECNO Head Office, Darkuman Junction, off Kaneshie-Mallam Road, Accra. Designed for users with higher demand from Smartphones, the TECNO N7 will be available at all TECNO outlets in Ghana.
Building on the success of the popular TECNO N3, the TECNO N7, a dual SIM smartphone, features the combination of Android 4.0 Ice Cream Sandwich with a 1GHz dual core CPU, running on a 5 inch touch screen.
"It was our aim to empower the young African to acquire a Smartphone and to enjoy a smart life with the TECNO N3. Now, with the TECNO N7, we want to offer them a more superior Smartphone with high-end performance and a better user experience", said Mounir Boukali, the PRO of TECNO Mobile.
With a 1GHz dual core processor, the device offers users a fast data processing speed and the ability to use multiple applications at the same time, along with a smooth web browsing experience. TECNO N7 users can download over 800,000 innovative and interesting apps.
This smartphone, with high-performance features and rich smart experience, supports a Dual SIM system, allowing users to make a balance between their work and personal lives with one smartphone.
The TECNO N7, running on a stunning 5'' touch screen, presents users with an amazingly smooth operation experience while viewing messages, multimedia, web content or games, etc.
The device comes with a variety of apps that allows the consumer to connect to their social networks with ease. And one app worthy of note is Flash Share, a unique transfer software that allows one to share files of any format and size at an amazingly fast speed, and does not require internet connectivity, WIFI or SIM card.
Other notable features of this Android-driven smartphone include a 5 mega pixel rear camera with flash, a 0.3 mega pixel front camera and a powerful 2,300mAh battery, which allows the users to enjoy 5 hours of talktime. Also, this device combines a 4GB ROM and 512GB RAM with expandable memory of up to 32GB. TECNO also offers an 8GB memory card with the purchase of each Smartphone.
"We always endeavour to provide suitable products to the consumer based on market demand. There is no doubt that many people's demand from Smartphones are met in the N7. We will have more smartphones coming onto the market soon, which will meet the needs of diverse groups of people." Mr. Boukali added.
Editor's Note:
About TECNO
TECNO, headquartered in Hong Kong with an Operations Centre in Dubai and R&D centre in France and Korea, is the first dual SIM mobile phone brand on the African market; and has always transformed advanced technology into localized products with the motto: "think globally, act locally".

TECNO has always paid great attention to customers' experience and strives to provide them with the most suitable products by adopting the latest innovative technology. Currently, TECNO owns a comprehensive product portfolio, which covers mobile phones at all level, including feature phones and smartphones.

TECNO mobile has been highly praised and favoured by customers for its high quality, powerful recreational function, high-performance on Internet experience and favourable after-sales service throughout the nation. Now, TECNO, being the fastest-growing brand in Africa, has become one of the top three mobile phone brands in Africa.