6 April 2013
|
General News
Iodine deficiency can make you go insane, experts warn!
Joy News TV | Abigail Adomako Antwi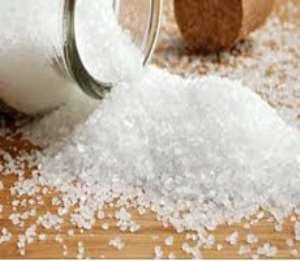 The discovery of the link between iodine deficiency and the prevalence of many health complications prompted scientists to develop a medium to boost consumption of the critical nutrient.
They settled on salt which for many is an essential ingredient that adds taste to meals.
The intake of iodized salt is however taken for granted by a number of Ghanaians who consume the indigenous non-iodized salt they consider natural.
Even though consumption of iodated salt became widely accepted in the late 90s after a massive campaign to get Ghanaians to buy into it, there are many, especially food joint operators who do not see the need to use iodized salt.
Mavis Cobbinah operates a food joint in Accra and has been cooking for the past eleven years using non-iodized salt to spice up the food.
''we have never used iodized salt in cooking since we started operating this eatery, though some customers ask if we use iodated salt in cooking or not but we tell them we use local salt and they accept without complaints''
There are other caterers however who have come to appreciate the need to use iodated salt in cooking.
Martha Egbezutsor, a chief cook at Semi's Place, a popular food joint in Accra believes iodized salt is healthier than the local salt.
''we always use iodized salt to prepare food because we want the safety of our customers. Though the local salt is cheap, it is mostly full of stones and therefore not the best to consume'' she opined.
To ensure that Ghanaians do not suffer iodine deficiencies, the Food and Drugs Board Act 523 was passed in 1996 to make the iodization of salt mandatory for both human and animal consumption.
But for some consumers, their beliefs are more compelling than the law.
''our great grandfathers consumed the local salt and had no problems. Iodated salt was just introduced some few years ago and we are being coerced into consuming it but my family has been taking non-iodized salt and nobody has been infected with goiter or any other disease'' a consumer argued.
Daniel Martey, also attested that he had no qualms taking in non-iodized salt arguing that it is natural and hence will not cause him any health complications.
The non-iodized salt meanwhile is widely available on the market, the law notwithstanding.
The price of the iodized salt however appears to be a factor.
While small sachet of iodized salt costs at least 50 pesewas, with only 20 pesewas you can get a big margarine tin worth of the non-iodized one.
Peace Gakpetor a local salt dealer also adds that it takes just a little to taste.
''there is market for the local salt because it is cheaper, tasty and makes you stronger. Consumers do not like the chemicals added to the iodised salt so they always buy the non-iodised ones''
But Dr. HayfordTabiri, a nutritionist at Globest Health City told Joy News' Abigail Adomako Antwi the iodisation of salt is the simplest and most cost-effective measure available to prevent mental retardation, fatigue, depression, goiter among other health complications in the country.
''Globally about 2 billion people close to one-third of the population lack iodine because iodine is lacked in the crops and animal foods that we consume but iodization of salt has proven to be the best way to get iodine into your body because people take salt everyday and hence will be literally forced to take it when consuming iodized salt''
He added that iodine is an essential trace element of the thyroid hormone thus the thyroxin and triiodothyronine contain iodine and it helps to boost energy in us.
Dr. Hayford Tabiri is worried a lot of education on iodine intake had not gone down well with Ghanaians resulting in iodine deficiency disorders.
''There are no side effects when one consumes iodized salt because iodine is not an external chemical but a nutrient the body needs. So many people are mentally retarded, fatigued, weak, stressed and depressed but they do not know their situation maybe as a result of iodine deficiency and that is very worrying''.
He added that 20grams of iodine per one ton of salt is used during the iodization process so the concentration of iodine in salt should not be a worry to consumers as it is just the needed amount required by the human body.