5 April 2013
|
Business & Finance
Thousand days MDG countdown advocacy begins on April 5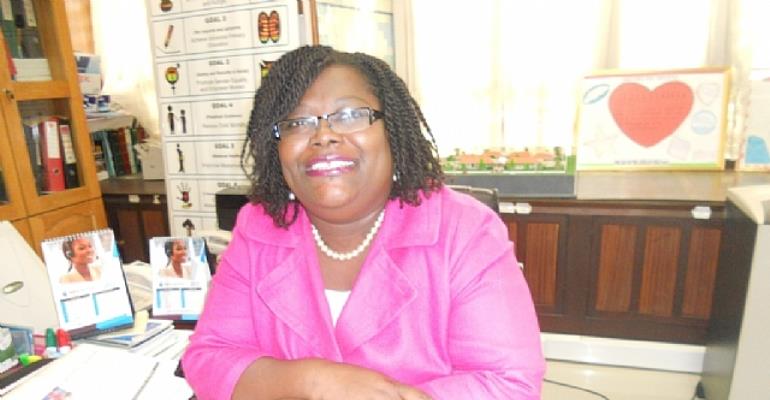 Nana Oye Lithur
Accra, April 5, GNA - Thousand Days countdown to end the Millennium Development Goals (MDGs) begins on Friday April 5 with a call for intensification of efforts at achieving the targets by 2015.
'April 5 marks 1,000 days until the end of 2015, the deadline for achieving the MDGs, and while progress on the MDGs has been impressive, it remains uneven across populations and sectors,' Nana Oye Lithur, the Minister of Gender, Children and Social Protection, told the GNA in an interview in Accra on Thursday.
She said 'Thousand days to redouble efforts in areas where there have not been strong enough advances. If we act today, we have the opportunity to make dynamic progress within the next three years.'
The MDGs are time-bound with quantitative and qualitative goals of core human values to be met over a 15-year period from the year 2000 to 2015.
The eight MDGs are: Eradicate Extreme Hunger and Poverty; Achieve Universal Primary Education; Promote Gender Equality and Empower Women; Reduce Child Mortality; Improve Maternal Health; Combat HIV/AIDS Malaria and other diseases; Ensure Environmental Sustainability; and Develop a Global Partnership for Development.
The goals are hinged on investment in human capital, reversing despoliation of the fragile environment, emancipation of women, core human values, eradication of diseases, and the achievement of high levels of literacy, improving living standards and the quality of life for the majority poor, engender regional cooperation and collaboration among nations.
Nana Oye noted the urgent need for all hands-on-deck approach to wrap-up activities to complete the MDGs within the next 36 months.
She said she would champion the formation of 'Female in Governance Group,' (FGG) to project the role of women in national governance.
The FGG membership will include female ministers of state, governance institutions with females as heads and other key partners.
Nana Oye said this when she interacted with some officials of the Canada International Development Agency (CIDA) including Ms Trudy Kernighan, Canadian High Commissioner and Ms Loree Semeluk, Second Secretary Development Officer on Thursday.
She said the Female in Governance Group would also serve as a think-tank platform for exchange of ideas, mentoring of young female leaders and creating a synergy between state institutions and gender based groups.
Speaking on the new and expanded mandate of the new Ministry, Nana Oye said a desk for older persons and the disabled would be created with other pragmatic innovations to ensure that the Better Ghana Agenda becomes meaningful to all Ghanaians especially the vulnerable.
She said the ministry had also set in motion modalities to scrutinize the 2013 Budget to measure its gender sensitivity 'We need to look whether gender budgeting was mainstreamed in the Ministries, Department, and Agencies.'
Ms Kernighan commended Ghana for the progressive development and President John Dramani Mahama for creating the new Gender Ministry which falls within CIDA mandated areas of operation.
She said CIDA would continue to collaborate with relevant MDAs to empower the under privileged.
GNA