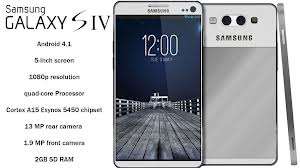 Accra, April 4, GNA - Samsung is introducing for the first time on the Ghanaian market the Dual Camera feature of the new GALAXY S IV, which shoots and records crystal clear images.
With its ravishing 13 megapixel lens from both the front and rare camera simultaneously; Samsung Galaxy S IV Dual Camera eliminates the need for setting neither a timer nor a tripod thus making every moment count.
A statement issued by Samsung Ghana copied to the Ghana News Agency on Wednesday said with both the front and back cameras capturing simultaneously the all-new GALAXY S IV dual camera brings everyone together in the most spectacular of ways to give you the fullest satisfaction from all the precious times together.
It noted that capturing the special moments in our day-to-day activities in pictures is a vital part life and communication and to get the best out of the experience; this feature would enable friends and families to capture every moment together without leaving out anyone.
The statement said being the perfect lovers' companion the Dual Camera feature of GALAXY S IV eliminates the awkward moments of trying to get right angle for that perfect couple portrait makes it relatively easier for your partner to take a perfect picture with both of you in it as preferred.
It said the Dual Camera function of the Samsung GALAXY S IV was also tipped to revolutionize the way people do business and communicate with their colleagues and most importantly clients.
It stated that it would make reporting and updates on projects as well as sending product information easier, faster, realistic and much more engaging with Dual Video call or Dual Video, no matter how far they may be.
The statement said business owners could now take easy tours of shops and services instantly without any hassle; declaring that the uniqueness of the Samsung GALAXY S IV Dual Camera feature ensures no matter how urgent or quick you need to disseminate your products or services information you were able to do so within the shortest possible time for all your cherish clients irrespective of their location.
It said students and lecturers alike weren't left out as the ability for the GALAXY SIV Dual Camera enables you to show what's happening in front of you while face-to-face video call was still on ensures the lecturer as well as the students reactions and response were captured simultaneously making you feel exclusively part of the class even when you were not there in person.
The statement said the Dual Camera also makes monitoring and writing of tests flexible and comfortable as both could be done simultaneously from different locations.
It said regardless what you do or where you were, the Dual Camera feature of the Samsung GALAXY SIV was the ultimate tool for sharing all those wonderful moments and making each of them count.
It observed that as human centered product Samsung GALAXY S IV was designed to let you live to the fullest as your True Life Companion.  
It said Samsung would soon launch the much-anticipated GALAXY S IV in Ghana, and the launch will finally introduce onto the Ghanaian market, the product which is currently adjudged the world's most populous smartphone.
Samsung Electronics Company Limited is a global leader in semiconductor, telecommunication, digital media and digital convergence technologies.
GNA