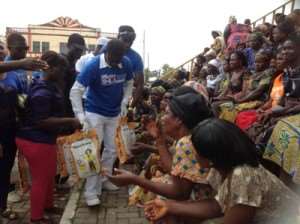 Metro 94.1FM, a newly established but popular radio station in the Ashanti Region, brought smiles and happiness to the faces of thousands of widows in the Kumasi metropolis and beyond, by giving them something to cheer about, when the management of the station presented them with food items last Friday, as part of activities marking this year's Easter festivities.
Hundred of widows from all walks of life took a bag each of Royal Aroma perfumed rice and chicken, as the station's contribution towards bringing joy to widows this Easter.
The programme, which was led by Ghanaian movie star and comedian, Kofi Adu, popularly known as 'Agya Koo', is one of many social interventions undertaken by the station since its establishment a few months ago.
The occasion was also spiced with motivational talks and a performance by Ghana's finest local movie star, Agya Koo, who also happens to be one of the directors of the station.
Addressing the crowd of widows who gathered at the Jubilee Park to participate in the occasion, Agya Koo reminded society about the special place widows and orphans occupy in the heart of God, stressing, 'Whoever treats these two groups of people harshly will never enter Paradise or see prosperity in his or her life.'
He said it was for this reason that the management of Metro 94.1FM decided to organise such a programme to bring the plight of many widows, who are going through harsh economic conditions due to the demise of their husbands, to society and implore the need for philanthropists and other bodies to come to their aid.
The ace local movie star noted that the programme would be organised periodically, adding that the objective of the station would not only be to play music and do other programmes, but also propose initiatives that have a direct impact on society, particularly, the vulnerable.
Pix: Kofi Adu, aka Agya Koo (middle), sharing the items to the widows