Alert: Ghana risks running out of clean water in 12years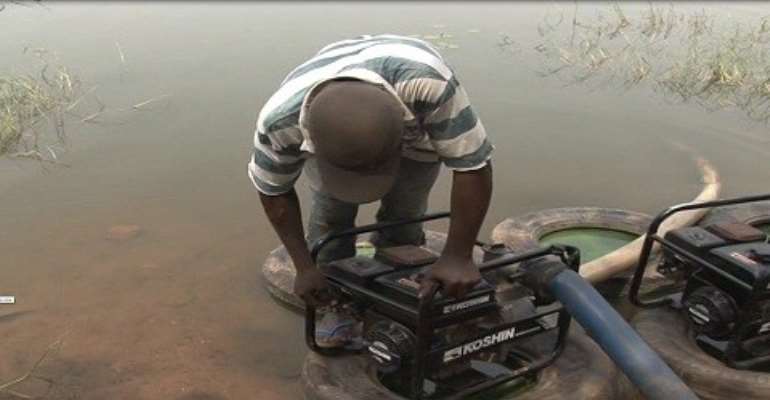 Experts are raising alarming concerns about the extent of pollution on the nation's water bodies treated for drinking, warning of dire health implications and the potential of causing the water bodies to dry up.
The revelations follow Joy News campaign to highlight activities that pollute the nation's water bodies, focusing on Rivers Densu, the Black and White Volta, and the Pra.
From the Weija Dam in Accra, where water treated from the Weija Dam serves the over 2.5 million (50%) of the capital's population, Joy News' Evans Mensah reports of a gnawing problem of pollution like a marauding beast.
He reports of visible activities of pollution at the banks and in the water bed. In fact, the water has turned greenish due to contamination.
Corroborating the report, an official at the Weija Treatment Plant, Hadisu Alhassan said "pollution is very prominent and is the biggest threat to water supply in Accra".
Some of the pollutants include "agricultural fertilizers and other agro-chemicals, indiscriminate waste disposal into the water" he added.
The devastating effects of this pollution are said to be draining the coffers of the water companies as they spend about half a million Ghana cedis each month to purify heavily polluted water, a central reason why the company is asking for significant tariff increases.
Managers of the nation's water sources; Water Resources Commission and the Ghana Water Company say the extent of pollution of the country's water bodies is set to worsen the water crisis facing parts of the country now.
Little wonder therefore, that a 2011 study by a water based Non Governmental Organisation, WaterAid and Sanitation programme revealed that a worrying 19,000 Ghanaians including 5,100 children die annually from diahorroea.
About 90% of this is attributable to poor water, sanitation and hygiene practices.
Even more frightening is the prospects that Ghana risks running out of clean water in the next 12years, Water aid has said. A Policy Manager with WaterAid, Ibrahim Musa, said scientists have predicted that in view of climate change, the volumes of water in the country are expected to be enough until 2025, thus without pollution.
With the current levels of pollution, the companies have no option but to slap exorbitant tariffs to ensure purification even as we also risk having our water bodies dry up.