March 29, 2013
|
Press Release
Video: His Royal Majesty, Drolor Bosso Adamtey I speaks At Global Forum in Sweden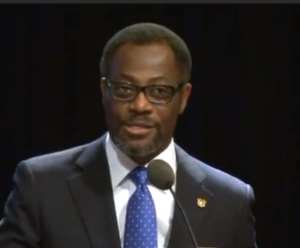 Business leader, author and the Suapolor ("pathfinder" or "waymaker") of the Se (Shai) Traditional Area in the Dangme West District of Ghana was one of the high profile speakers at the Global Forum/Shaping the Future in Stockholm, Sweden.
The Global Forum/Shaping the Future is an annual international and independent event, dedicated to the Economic, Political, Social and Societal issues related to the successful evolution of the Information Society.
As a key note speaker, His Royal Majesty, known in private life as Dr Kingsley A. Fletcher spoke extensively on the theme 'Smart and Innovative Visions for the Future' and about how the Global Forum can change nations.
He also stressed on the importance in using technology for development on the African continent.
"It is very important for us to see the drive and the direction of technology. It is critical to our world. Today, technology is the driving force for sustainable development."
Watch the video below to see how His Majesty voiced out his views on the subject.