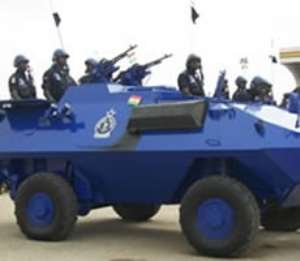 More police personnel deployed for Kwahu festivities
Acting Eastern Regional Police Commander, ACOP James Abass Abaah, says his outfit would ensure the protection of lives and property during and after the Easter festivities in the region.
To this end, the command has detailed four hundred police personnel to the Kwahu area to ensure incident –free activities during the Easter period.
Over the years bizarre incidents have occurred during such Easter celebrations at Kwahu, leaving many merrymakers and celebrants in great shock, as burglars also use the opportunity to attack innocent people.
Addressing a press conference in Koforidua on Thursday to outline the police preparedness for the Easter festivities, ACOP Abass said the police would step up their security measures to ensure that the festival is incident free.
He therefore cautioned merrymakers and celebrants to discipline themselves since the police would deal ruthlessly with any trouble maker.
The Acting Regional Commander said the Motor Traffic and Transport Unit (MTTU) of the police would also detail personnel to ensure order and compliance of the traffic regulations during the holidays.
According to him, there would be no room for unregistered vehicles and motorcycles at Kwahu during the period and urged the public to cooperate with the police.
Last year a cross section of the media reported that a lady in her mid-twenties openly had sex with a young man in the full glare of merry-makers which left many people in great shock.
The alleged incident took place on the popular Obomeng high street where many merry-makers on such occasions converge for fun and socialization around 2030 hours on Easter Saturday.
ACOP Abass cautioned the media to be circumspect in their reportage in order not to scare prospective merrymakers and celebrants away from the area.