Stop sponsoring Muslims to Mecca – Presby Moderator tells gov't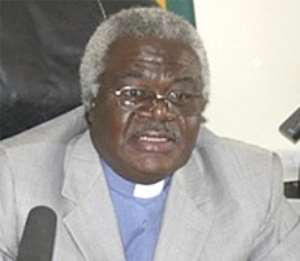 Rev. Prof. Emmanuel Martey
The Moderator of the Presbyterian Church of Ghana, Rev. Prof. Emmanuel Martey is calling on government to discontinue the sponsorship of Muslims to the Hajj pilgrimage in Mecca.
Prof. Martey contends that funds used for the sponsorship - irrespective of the source - must rather be channeled into developmental projects in communities.
Speaking on Badwam on Adom TV, Wednesday, Prof. Martey explained, many communities lack basic social amenities which make it imprudent to spend money to sponsor religious trips at the expense of the deprived. He was commenting on the controversial issue of the state's intention to facilitate a pilgrimage of some selected 200 Christians to Israel.
Initial reports suggested that government was sponsoring the pilgrimage; however, government has denied that. According to a government statement, the pilgrimage is being sponsored by a philanthropist with government only playing a facilitating role.
But the Presby Moderator maintained, funds for the pilgrimage to Israel must be used to reduce the infrastructural deficit in deprived communities such as Walewale in the West Manprusi District of the Northern Region, which was recently hit by a devastating rainstorm displacing hundreds of residents.
That situation he noted, demands the immediate attention of government.
In a related development, the Church of Pentecost has also instructed its priests not to accept the offer to be part of the pilgrimage, according its Chairman, Apostle Dr. Opoku Onyinah.
The Assemblies of God Church is reported to have formed a committee to look into the matter and advise whether the church should allow its members to be part of the pilgrimage.

Story by Ghana/Adom TV/Nana Yaa Brefo