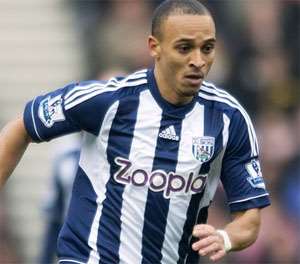 Peter Odemwingie
West Brom have confirmed that they will deal internally with striker Peter Odemwingie's latest Twitter outbursts against the club.
Odemwingie was disciplined after releasing a series of social networking outbursts against the Baggies in January after they rejected his transfer request.
The 31-year-old launched another series of attacks after  driving to Loftus Road without permission on transfer deadline day only for the move to QPR to fall through. http://www.sportinglife.com/football/news/article/2/8460278/video-peter-odemwingie-interview
And now the Nigerian international has hit out at being omitted from the starting line-up for the past four games.
Odemwingie also claimed he would have taken a pay cut to move to QPR and that his commitment to Albion was still being questioned when he has taken injections to play when not fully fit.
While the majority of Odemwingie's tweets have since been deleted, an Albion spokesman said: "The club are aware of what Peter has said and we will deal with it internally."
West Brom also confirmed that social networking activity is governed by the club's disciplinary code of conduct.
Odemwingie tweeted: "Keeping me on the bench now is worst than what they did to me on the 31st (of January).
"New advisors told me to say its all my fault cos its better for me.
"A normal team will never let a player who acted like I did come back. Why keep me still.
"If they like they shouldn't even give me 10 mins to play.
"Threatening to ruin my career? Career I closed already last summer? No harm to me." SL