AGI Commissions Three KVIPS, Market … For Four Amansie West Communities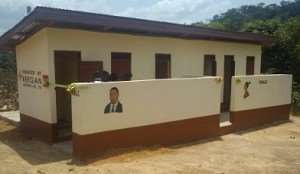 Asanko Gold Incorporation (AGI), formerly known as Keegan Resources (Ghana) Limited, has constructed and commissioned three Kumasi Improved Ventilation Pits (KVIPs) at Aboabo, Tetekaso, Esaase, and a market at Essuowin, all in the Amansie-West District of the Ashanti Region
The KVIPs at Aboabo and Tetekaso are valued at GH¢15,567.75 each, and that of Esaase GH¢15,180.75, while the Essuowin market cost GH¢52,015.35, amounting to a total of GH¢98,331.60.
The provision of the facilities forms part of the company's social responsibility to the communities, as well as making their catchment area a better place to live in.
The Site Manager, Edward Blankson, who represented the General Manager of the company, said at the commissioning last Friday, that the AGI had awarded contracts for the construction of the a three-classroom kindergarten block at Tetrem, a 20-seater aqua-privy toilet facility at Amankyea, and a laboratory facility for the Mother of God Clinic at Esaase, at the cost of GH¢202,529.06, which projects are ongoing.
He said the AGI had lived up to expectation sectors of health, sanitation and local economic development.
According to him, the company's commitment to the sustainable development of its catchment areas prompted the establishment of the AWAN Social Responsibility Forum to provide the host communities and other stakeholders the opportunity to participate in the company's decision and plans of their operation.
The Site Manager said the AGI was required by law to pay fair and adequate compensation to farmers whose crops and properties may be affected during their operations, and added, 'As a responsible company, Asanko has set up the Compensation Negotiation Committee (CNC) to negotiate for fair and adequate compensation rates for crops, land and other immovable properties.'
As part of the programme, a Memorandum of Understanding (MoU), which will outline the responsibilities of all parties in the operation and maintenance of the facilities, has been signed by Asanko Gold Inc, the Amansie West District Assembly, and the respective beneficiary communities, per their representatives.
The District Chief Executive, Chares Oti-Prempeh, thanked the company for adding value to the lives of the people of Amansie-West by providing the support, and urged nananom to maintain a cordial relationship with the mining company.