Stop Mounting Pressure On H.E John Dramani Mahama—Youth For Mahama Appeals To NDC Youth Groups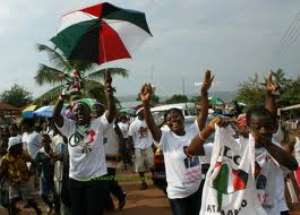 Members of the Press, Fellow Ghanaians, Youth For Mahama Ashanti has noticed with grave dismay certain unfortunate and dead end actions of some fellow Youths and Activist of the National Democratic Congress.
These actions have given us cause to worry and Youth For Mahama Ashanti would like to use this opportunity to appeal to these individuals, groups and possible to desist from those acts in the interest of party unity and progress.
In as much Youth For Mahama Ashanti reckon that, it is within the right of anybody or group of people to advise the president or the government through any legitimate means possible, we would like to state it unequivocally that, this does not give anybody or group the impetus to dictate in any way to the president.
The powers and authority of appointment and dismissal is entrusted solely in the hands of the president by the 1992 constitution of the Republic of Ghana.
Thus H.E John Dramani Mahama must be given the room to appoint anybody he deems fit to work with or dismiss anybody he does not want to work with at a particular point in time provided it is in line with the constitution.
Fellow Ghanaians, Youth For Mahama Ashanti would like to emphatically condemn acts of violence, demonstrations, name callings, character assassinations, burning of properties, verbal and cynical attacks and other vicious acts that are being perpetrated in certain parts of the country by individuals and groups alleged to have been affiliated to the National Democratic Congress. These individuals and groups must desist from all these radical improvident actions before the law catch up on them.
We would like to particularly condemn the acts of violence, tribal and religious preaches that sequel the appointment of the Upper West Deputy Regional Minister Designate- Hon Abu Kabiebata Kasabanka by the president- H.E John Dramani Mahama. It is an immutable fact that, we cannot all as individuals and groups agree on all appointments of the president but it is our sacred responsibility to accept those appointees and collaborate with them to deliver the Better Ghana Agenda promised Ghanaians.
For those groups calling for the head of certain hardworking individuals, Youth For Mahama Ashanti would like to call on them to restrain from those unnecessary acts as the president knows where to put anybody at a particular point in time.
Youth For Mahama Ashanti will like to categorically caution those groups who are ups and arms against the industrious Chief Executive Officer of the National Health Insurance Scheme- Mr. Sylvester Mensah to desist from tarnishing his hard won reputation.
He is without a doubt a success to the Better Ghana Agenda and the least anybody could do is to destroy him in the name of petty politics. We are advising those groups to undertake the needed research about the operations of the Scheme so as to equip themselves with the needed facts and stop fighting for their selfish interest.
As youths and bedrock of the NDC and Ghana, it will be to our utmost disadvantage which we shall pay for from cradle to the grave if we should run H.E John Dramani Mahama and his government down.
As human and fallible as H.E John Dramani Mahama is, he cannot satisfy all interests at the same time but let us repose absolute confidence in him that surely he would take Ghana to the promise land.
As a president H.E John Dramani Mahama and the National Democratic Congress cannot afford to disappoint the people of this country who queued on the 7th and 8th of December, 2012 to entrust the cherish destiny of Ghana into their hands.
The teacher in Adidome of the Volta Region, the Trader in Makola ,Accra and Kejetia in Kumasi, the shoe maker, the farmer or the banker in Navrongo, Cape Coast or Takoradi, Sunyani and Ghanaians as a whole are expectant of H.E John Dramani Mahama to improve their life in the next eight years. He needs our support, encouragement, advice and above all genuine prayers to succeed but not violence, dead end and radical improvident demonstrations.
Youth For Mahama Ashanti would at this point appeal to the youths to equip themselves with the needed immutable facts to be able to serve as research reservoir for the government. This in our view will not only enhance our capability to serve as assets to the nation but also afford us the opportunity to counter all deceits and dust the NPP and Nana Akufo Addo are throwing into the eyes of the Good people of Ghana.
Our energy as youths must rather be focused on helping the president solve the basic problems of water, electricity, education and health, sanitation which has bedevilled us as a country. We must protect the president from all diversionary attitude of the NPP and Nana Akufo Addo through any sensible and nation building constitutional means possible.
Thanks and God Bless Our Homeland Ghana.
----signed----
FIEVE D KARL JULIUS 0248192970 COORDINATING PUBLIC RELATIONS AND MEDIA OFFICER.
TULASI MATHIAS 0201595009 COORDINATING SECREATARY.
ABDUL RAZAK 0242747371 COORDINATING CHAIRMAN.