Gov't Targets Building 'Gold City'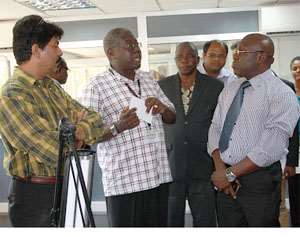 Reuben Damptey (2nd left), explaining a point to Inusah Fuseini (in tie) during a tour of some facilities at PMMC.
Inusah Fuseini, Minister for Lands and Natural Resources, has hinted that government could leverage on the expertise of the Precious Minerals Marketing Company (PMMC) to establish a 'Gold City' in Ghana modelled along the lines of similar facilities in Dubai, United Arab Emirates and Johannesburg, South Africa.
'The world-class facility will provide a unique opportunity for the accelerated transformation of the mining industry in Ghana through enhanced value addition by offering an excellent platform to nurture, sharpen and develop the skills of indigenous craftsmen to international standards.'
He therefore charged management of PMMC to submit a strategy spelling out the necessary modalities, specific guidelines and timeframes for the implementation of the project for Government to consider.
Hon Fuseini said this when he visited PMMC as part of his familiarisation tour of some agencies under his outfit.
The event afforded him an opportunity to acquaint himself with the operations of PMMC and brainstorm with management on possible solutions to challenges confronting the state-owned organisation.
He underscored the importance of PMMC as a key stakeholder in the management and utilisation of the country's mineral resources.
Through its work, PMMC is fulfilling government's desire to make locally-manufactured jewellery available to Ghanaians and foreigners while providing a ready market for the development of the small-scale mining sector in Ghana.
Hon Inusah Fuseini bemoaned the high number of court cases involving PMMC and requested for an investigation into such development, saying it was adversely affecting the finances of the company.
In his welcome address, Reuben Damptey, Managing Director of PMMC, revealed that the company, established in 1963, had honoured all statutory payments to Government and generated over $1.6 billion in repatriated export foreign exchange earnings since 2007.
Mr Barfour mentioned the lack of capital as a major concern and pleaded with the minister to follow up on the company's application for a 'public private partnership.'
He also cited the loss of tax revenue to Government through the influx of unregistered miners into the sector as a source of concern.
 By Emelia Ennin-Abbey