CJA Facilitates Human Rights & Justice Outreach withLiberian war victims in Philadelphia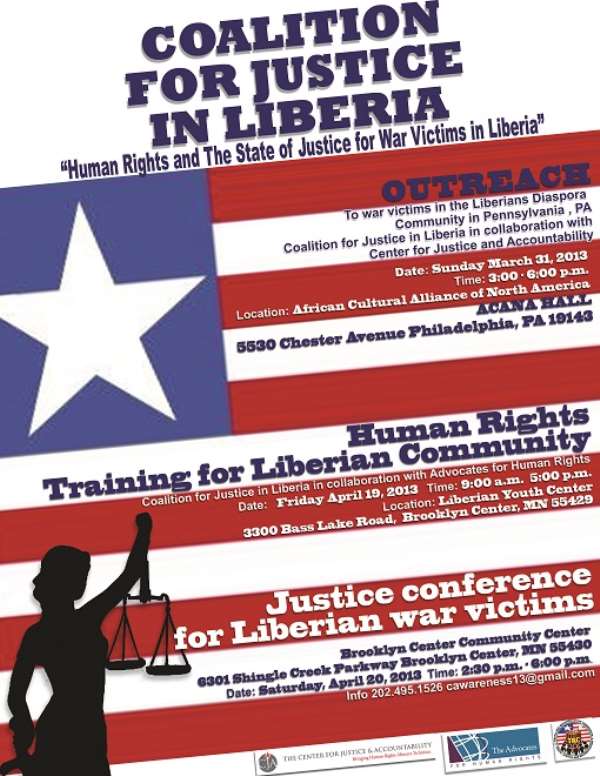 The Center for Justice and Accountability(CJA), an American human rights advocacy group, will facilitate an outreach with the Liberian community in Philadelphia, Pennsylvania on March 31-April 1, 2013 at the ACANA HALL. According to the organizer, the Coalition for Justice in Liberia (CJL), the purpose of the outreach, which is the first of its kind, is to raise awareness and engage Liberians who are victims of the 14-year civil war, long silent and marginalized, to learn about legal options they have available to seek redress and bring their perpetrators to justice.
The internationally-renowned Center for Justice and Accountability has been at the forefront of bringing human rights abusers to justice. CJA's mission is to deter torture and other forms of human rights abuses around the world and advance the rights of survivors to seek truth, justice, and redress. For more than a decade, the CJA have pursued human rights abusers throughout the world, wherever they have run to hide. CJA uses its litigation tool to hold perpetrators individually accountable for human rights crimes committed during a civil conflict.
The CJA is not new to the Liberian situation. One of its well-known litigation efforts it initiated is the case involving Chukie Taylor, son of former warlord and President Charles Taylor. Through its work, Chuckie Taylor was indicted on criminal torture charges by the United States Department of Justice in the southern District of Florida. CJA has pursued numerous other cases far and wide, and have gone after war criminals aggressively, helping to bring some sense of closure to those who have been victimized.