Arrest of PM's aides mars Zimbabwe referendum count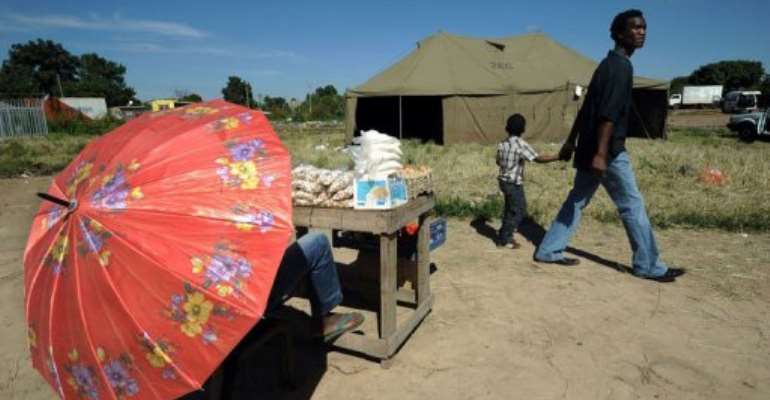 HARARE (AFP) - Zimbabweans appeared to have given widespread backing to a new constitution that will curb veteran President Robert Mugabe's powers but the referendum count was marred by fresh political arrests Sunday.
A preliminary count of around half a million votes showed more than 90 percent endorsed the draft constitution in Saturday's referendum, according to Prime Minister Morgan Tsvangirai's party.
The proposed text would introduce presidential term limits, beef up parliament's powers and pave the way for a general election to decide whether 89-year-old Mugabe stays in power.
violent polls Mugabe has ruled uninterrupted since independence from Britain in 1980, despite a series of disputed and violent polls and a severe economic crash propelled by hyper-inflation.
Mugabe has backed the proposed constitution which, while curtailing his powers, would also allow him to remain in office for another decade until he is 99 -- elections permitting.
His political rival Tsvangirai has also lent his support to the text, but voiced concerns that a continued crackdown by Mugabe's security apparatus could derail elections scheduled for July.
On Sunday police arrested four of Tsvangirai's senior aides, including advisor Thabani Mpofu. Prominent human rights lawyer Beatrice Mtetwa was also detained for allegedly obstructing justice.
"We arrested four people for impersonating the police," police spokeswoman Charity Charamba told journalists.
Charamba said Mtetwa was arrested for shouting at detectives raiding offices where some of the premier's documents are housed.
The Southern African Development Community (SADC) described the referendum as "peaceful and credible" but condemned isolated cases of violence on the eve of the vote.
"This is a major step in the implementation" of reforms agreed under the uneasy power-sharing government between Mugabe and Tsvangirai.
SADC observers "noted reports of isolated cases of intimidation and harassment in some areas and in particular in Mbare, Harare".
Zimbabwean police have launched a series of raids to seize two-way radios, a policy that rights groups say is a fig-leaf for intelligence gathering and intimidation.
Several members of Tsvangirai's Movement for Democratic Change were beaten up on Friday and a party leader was arrested on referendum day.
The Zimbabwe Electoral Commission said Sunday that at least two million out of five million registered voters had cast ballots.
Full results are to be announced within five days of the vote.
Mugabe, whom many people blame for past unrest, had urged Zimbabweans to ensure the referendum proceeded peacefully.
"You can't go about beating people on the streets, that's not allowed, we want peace in the country, peace, peace," he said as he cast his vote.
Mugabe, the target of 11 years of Western sanctions over political violence and rights abuses, also used the opportunity to insist that the United States and European countries would not be allowed to monitor the July elections.
"The Europeans and the Americans have imposed sanctions on us and we keep them out in the same way they keep us out," he said.
Despite an EU travel ban, Mugabe plans to attend the inauguration of Pope Francis on Tuesday. The Vatican city-state is not part of the EU although Mugabe will have to transit through Rome.
Tsvangirai on Saturday expressed hope that a positive outcome would help catapult the country out of a crisis marked by bloodshed and economic meltdown.
He said he wanted to see a transition "from a culture of impunity to a culture of constitutionalism."
The constitution aims to strip away presidential immunity after leaving office, bolster the power of the courts, and set up a peace and reconciliation commission.
"A 'yes' vote is not a surprise because the constitution creates shorter terms for leaders," said 38-year-old Reuben Sibanda, a supporter of Mugabe's ZANU-PF.
"We need to retire the old man and allow a woman president to take over," he said.
Violence in the run-up to the referendum did not approach the levels seen in the disputed 2008 elections.
At least 180 people were killed then and 9,000 injured in a crisis that ultimately forced Mugabe and Tsvangirai into their tense partnership.
But fears of a return to bloodshed remain ahead of this year's polls.
"The situation will get more politically tense, but it won't be as violent as in 2008... because of the politics of inclusive government," said commentator Takura Zhangazha.
Tsvangirai has called on SADC leaders to hold an urgent summit to help ensure the election is fair and free of violence and intimidation.
Observers worry there may not be enough time to apply all necessary reforms to ensure a healthier political environment before the vote.