Lebanon President pays homage to Ghana' past presidents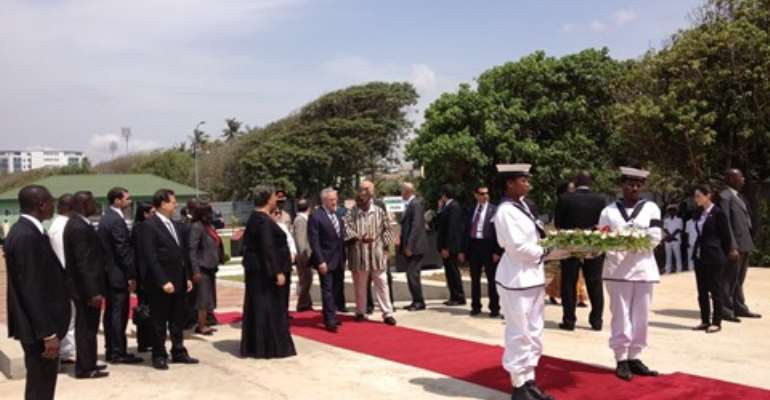 Lebanon President, General Michel Sleiman has visited some burial sites of past presidents in Ghana as part of his two day official visit to the country.
The visit to the sites was to pay homage to Ghana's past leaders.
He arrived in Ghana with a delegation of 86 members.
Yesterday, General Michel Sleiman and his host President John Mahama signed agreements that will further deepen the economic ties of the two countries.
Joy News' Seth Kwame Boateng was part of the tour of General Michel Sleiman visits to the burial sites and reports the occassion was solemn.
The wife of the Lebanese President, Wafaa Sleiman and their entourage started their day from the Kwame Nkrumah Mausoleum.
The Children of Ghana's first President led by Professor Francis Nkrumah, Samia Nkrumah and Dr. Sekou Nkrumah were at their father's burial site to receive the Lebanese President.
Accompanied by Ghana's Foreign Minister Hannah Tetteh, General Michel Sleiman laid wreath on the tombs of Dr. Kwame Nkrumah and his wife Fatia Nkrumah.
They were then conducted round the tourist site where they saw the tools, equipments and other materials the late President worked during the first republic.
The Lebanese President continued to the Asomdwoe Park where Dr. Don Arthur, a senior government official was there to meet him.
The Lebanese President was again led to lay another wreath on late President Mills' tomb.
General Sleiman's last stop was the Burma Camp. He inspected a guard of honor mounted on his behalf.
His mission was to lay another wreath in respect of Ghana's soldiers who have lost their lives in Lebanon as a result of the troubles there.
He also made a presentation to General Emmanuel Erskine and General Seth Obeng, former UNIFIL Force Commanders. The Lebanese President leaves Ghana this afternoon.