Desert blues man at SXSW looks forward to peace in Mali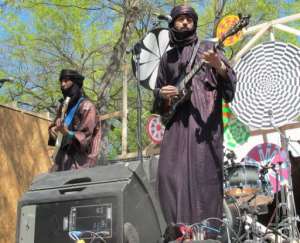 Liya Ag Ablil (R) and Sanou Ag Ahmed of the Malian desert blues group Terakaft perform in Austin, Texas March 15, 2012. By Robert Macpherson (AFP)
AUSTIN, Texas (AFP) - Unrest in northern Mali has left Liya Ag Ablil living in exile for years, but as he takes his Saharan desert blues to the wider world, he looks forward to peace back home.
Ablil fronts Terakaft, an offshoot of the internationally known Tuareg band Tinariwen that has been filling smaller, more intimate venues at the South by Southwest (SXSW) festival this week with its trance-like sounds.
"The lyrics that we sing are those of our culture," Ablil, also known in desert blues circles as Diara, told AFP after a lunchtime show Thursday under the early spring Texas sun behind a French bistro on the east side of Austin.
And if Terakaft's audiences have been relatively small compared to the big crowds that flock to see the indie rock bands that dominate SXSW, Ablil feels the response to its music among Americans has been positive.
"Yes, yet, it's been good. They're interested in the music," said the fifty-something electric guitarist who plays with nephew and songwriting partner Sanou Ag Ahmed, 33, and lists Dire Straits among his influences.
Father-of-four Ablil has lived in southern Algeria for nearly two decades, but still close enough to the Malian border to know of the harsh crackdown on music by Islamist rebels linked to Al-Qaeda in the north of his homeland.
"We knew that if you were to perform there, you'd be picked up, your guitar would be broken," said the musician, who takes the stage in a flowing deep-purple Tuareg robe and matching "cheche" or headscarf.
But since French troops intervened in January to help Malian troops regain control of the north, dislodging the Islamists and establishing a fragile peace, Ablil is cautiously optimistic for the future.
"We knew that it could never last," he said, referring to the Islamist hard line on cultural expression. "Now we can perform. I'm waiting for people to call me, now that everything has changed."
It's no mistake Terakaft's hypnotic sounds remind listeners of Tinariwen, one of the biggest names in world music: Ablil co-founded the band in 1982 and is the brother of one of its core members, the late Inteyeden Ag Ablil.
The two groups remain close, said Ablil inside a cool white tent lined with oriental carpets that served as the green room behind the stage. "It's the same thing, the same family, the same parents, the same music," he noted.
This is Terakaft's first US tour, following up on the stateside release of their latest album "Kel Tamasheq" (speakers of Tamasheq, the Tuareg language) produced by English guitarist Justin Adams.
Normally the band has two additional members, but they were inexplicably denied US visas. Standing in on bass guitar has been Austin musician Manny Flores, who's also hosting Terakaft at his house during SXSW.
"Basically, I picture the Sahara desert and what it must be like to live there, out in all that space," said Flores, 58, on how it feels to perform desert blues when the desert you know best is in arid Texas.
But Ablil and Ahmed are encouraged that their own US visas are valid for three years, and manager Phillippe Brix is trying to cut thorough the remaining red tape so that Terakaft can return as a whole to tour more widely.
In the nearer term, the group -- which takes its name from the Tuareg word for desert caravan -- is looking forward to a summer of touring European festivals, a well-travelled circuit that has helped desert blues thrive.