Zimbabwe votes on new constitution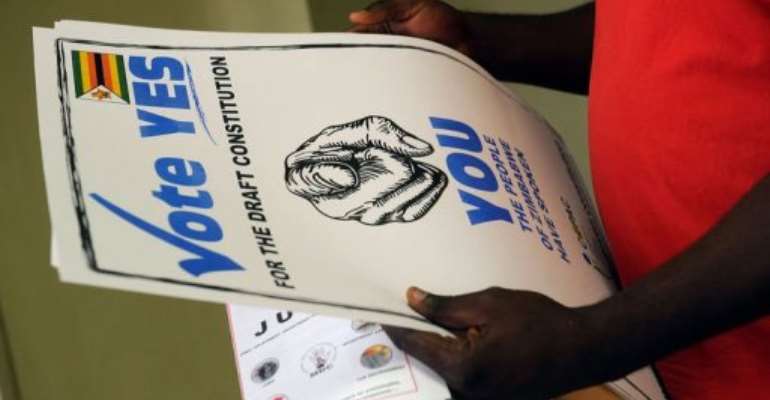 HARARE (AFP) - Zimbabweans will vote on a new constitution Saturday that would curb President Robert Mugabe's powers and pave the way for fresh elections later in the year.
The country's main political parties, including Mugabe's ZANU-PF, are in favour of the proposed laws, making the simple majority needed for a "yes" vote nearly certain.
An attack on activists and officials of Prime Minister Morgan Tsvangirai's party on the eve of the vote marred what has been, by Zimbabwean standards, a blood-free campaign.
Although authorities have targeted pro-democracy groups in the run-up to Saturday's vote, arresting their leaders and seizing equipment, few deaths have been reported.
During Friday's attack, members of Tsvangirai's Movement for Democratic Change (MDC) were punched as they put up posters urging voters to approve the proposed law.
The MDC suggested the attack was perpetrated by supporters of Mugabe's Zimbabwe African National Union-Patriotic Front.
Police dismissed the incident as stage-managed by a BBC television crew, who were also attacked, to "portray Zimbabwe as a violent country".
The new constitution would curb the presidential powers that Mugabe has enjoyed during his 33-year rule and lay the groundwork for elections due in July that would end an often acrimonious power-sharing deal between Mugabe and Tsvangirai.
Although the draft has the backing of both 89-year-old Mugabe and his rival Tsvangirai, 61, tensions between supporters of the two main parties are seething after a series of bloody elections in the crisis-weary country.
"The attacks are a clear testimony that ZANU-PF wants to embark on acts of violence," said MDC spokesman Douglas Mwonzora.
During 2008 elections more than 180 people were killed and 9,000 injured, according to Amnesty International, sparking a national melt-down that forced Mugabe into his power-sharing deal with Tsvangirai.
Many see the government's harassment of activists ahead of the referendum as a prelude to a more serious election crackdown.
The newly appointed head of the Zimbabwe Electoral Commission (ZEC), Rita Makarau, on Friday urged a peaceful vote.
"Please go and vote peacefully, this is our supreme law," said Makarau.
Around six million eligible voters will start casting ballots at 7:00 am (0500 GMT) at 9,456 polling stations dotted across the southern African country. Voting ends 12 hours later.
Mobile phones will be forbidden at polling stations.
Official results are expected to be released within five days of the vote.
The draft constitution, which was scheduled to be completed within 18 months, eventually took three years to draw up.
Tsvangirai, who has held nearly daily townhouse rallies, has asked religious leaders to pray for the country, once one of the richest in Africa but whose fortunes have sunk.
The new laws would decentralise power and limit Mugabe -- and any subsequent presidents -- to two five-year terms.
However, Mugabe would be eligible to stay in power until 2023, when he would be 99.
The basic law puts improvements in human rights to the fore, along with freedom of the press and gender equality.
It also enshrines free, fair and regular elections.
But observers fear there will not be enough time to apply all the necessary reforms to ensure a healthier political environment before the next elections.
Others complain there was not enough time to debate and digest the text, leaving many to vote for a document they know little about.
"I don't even know what's good or bad in the constitution but I am going to vote still," said Evans Gororo, a villager in Chinamhora, on the outskirts of Harare.
The National Constitutional Assembly, a non-government group, wants to see the new constitution rejected, arguing that if anything it grants Mugabe more unfettered powers than before.
"This draft constitution is an insult to the people," said Assembly leader Lovemore Madhuku.