Widespread Corruption In Sale Of Pre-Mix Fuel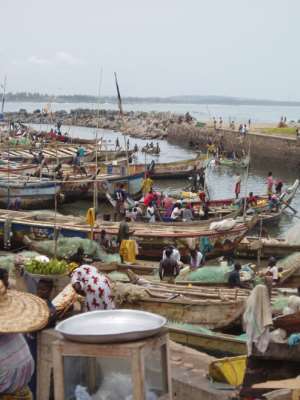 All landing beach committees in the district will be dissolved if they don't check corruption in the sale of pre-mix fuel to fishermen, according to Mr Theophilus Adu Mensah, the Gomoa West District Chief Executive.
"Either you report people who sell the fuel over and above the government approved price of GHC2.70 to the police for them to deal with the person, or I sack you all", the DCE said when he met the members of the committee of Apam.
The meeting was necessitated by a complaint received by the DCE that the pre-mix fuel was being sold by unscrupulous people to fishermen at prices ranging between GHC6 and GHC7 instead of GHC2.70.
According to the DCE, the report indicated that the landing beach committees which are responsible for the sale of the pre-mix fuel has being selling the fuel in drums to people who says they are fishermen for them to resell at exorbitant price.
"I will not sit down unconcerned for some unscrupulous people to be dragging the government reputation in the mud", the DCE said.
It came to light at the meeting that some people travel out the district to go and buy the fuel and transport them into the district and sell at a high price.
In response to this allegation, the DCE cautioned that anyone caught selling the fuel at exorbitant price would be made to disclose the source of the fuel for the one who sold the fuel to be dealt with.
"If you could not sell the fuel which the government has spent much money to subsidise at the approve price don't go and buy it," he said.
The DCE noted with some concern that some people have been using his name to buy the fuel and cautioned the committee members not sell to anybody who goes to them with his name.
Mr Ebenezer Crankson, Secretary to Apam Landing Beach Committee, said the committee has prepared some ID cards for the fishermen to use in buying the fuel as a means of checking malpractices in the sale of the fuel and urge other committees to do the same in order to bring sanity into the sale of the fuel.
Ebusuapanyin Kojo Yooyo, the DCE representative on the committee, assured the DCE that they will find the people who are bringing the name of the government into disrepute.