IMCC outdoors Decentralisation Policy Implementation Progress Report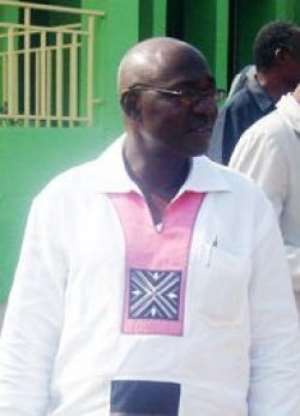 Mr Akwasi Opong-Fosu New
57593
Mr Akwasi Opong-Fosu
Accra, March 14, GNA - An eighty-page progress report on Implementation of the Decentralisation Policy Framework was on Thursday launched in Accra to announce the developments made at the districts level through the assemblies.
The report also sought to draw attention to the progress of implementation of the decentralization programme outlined in the New National Decentralisation Policy Framework and Action Plan.
Mr Akwasi Opong-Fosu, the Minister of Local Government and Rural Development, described the report as a 'very resourceful tool for those in public administration and for media practitioners'.
He urged journalists to take time to assimilate the information contained in the report so as to contribute meaningfully in the ongoing national debate on decentralization and not to limit the discourse to only the subject of election of District Chief Executives (DCEs).
The decentralization process in Ghana sought to devolve political, administrative and financial authority from the Central Government to the district level.
In harmony with Article 35 Section five (d) of the 1992 Constitution, the Government approved a new National Decentralisation Policy Framework which outlines key policy objectives.
The policy framework is being implemented through the National Decentralisation Action Plan and it focuses on nine main priority areas of action.
These include political decentralisation and legal issues, administrative decentralization, decentralized development planning, spatial planning, local economic development, fiscal decentralization, popular participation and accountability, the social agenda and the involvement of non state actors in local governance.
Each of the action area outlines the relevant policy objectives, measures, time frame and responsible agencies.
A Secretariat was also established for the IMCC to ensure effective implementation of decentralisation reform in Ghana with the aim of addressing reform issues involving the line ministers and implementation of decisions of the Committee.
 
GNA