Information Officer of US Embassy pays courtesy call on GNA General Manager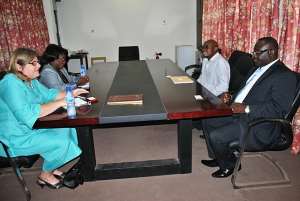 Gna US
57602
Accra, March 14, GNA - The Information Officer of the United States Embassy in Accra, Jeanne L. Clark, on Thursday paid a courtesy call on Mr Bernard Otabil, General Manager of the Ghana News Agency (GNA).
In the course of their discussions, she indicated that the purpose of the visit was to enable her to get acquainted with the work of the GNA and to see how best the US Embassy could help the Agency in the discharge of its functions.
She said her outfit would be able to assist in the capacity building of journalists from the GNA and recalled that in 2012 the US Embassy had extended a similar training opportunity to a number of Ghanaian journalists.
Madam Clark commended GNA for its outstanding performance over the years, especially in the coverage of rural news that focused on the everyday challenges of a vast majority of the population who reside in those areas.
Mr Otabil said GNA had a nationwide coverage and had always ensured accuracy, objectivity and fairness in news reportage.
"The Agency is now 56 years and has over the years promoted the national agenda by emphasising national cohesion and poverty reduction', he said.
The General Manager acknowledged that GNA like any other organization had shortcomings but that the Management was working hard to address them.
He said the Agency was very passionate about building the capacity of its human resource and appealed to the US Embassy to assist in that direction, with particular emphasis on the use of social media and online journalism training to facilitate the work of journalists.
Mr Otabil announced the GNA would be setting up a specialised desk on science and agriculture reporting to give expression to the concept of development journalism by focusing more on the challenges faced by the people at the grassroots for redress.
Mr Muhammad Nurudeen Issahaq, Acting Supervising Chief Editor of the GNA earlier briefed the delegation on the operations of the Agency.
He said because of the GNA's wide network of reporters and stringers across the country it was able to capture events in the remote communities, thereby giving the Government and other development partners an idea about the daily travails of  the people outside the urban centres.
Also present at the meeting was Mr Samuel Bruce Nyarko, GNA Business Development Manager.
Accompanying Jeane Clark on the visit was Joyce Asiedu, Information Assistant at the United States Embassy.
 
GNA