Zimbabwe police raids instil fear ahead of poll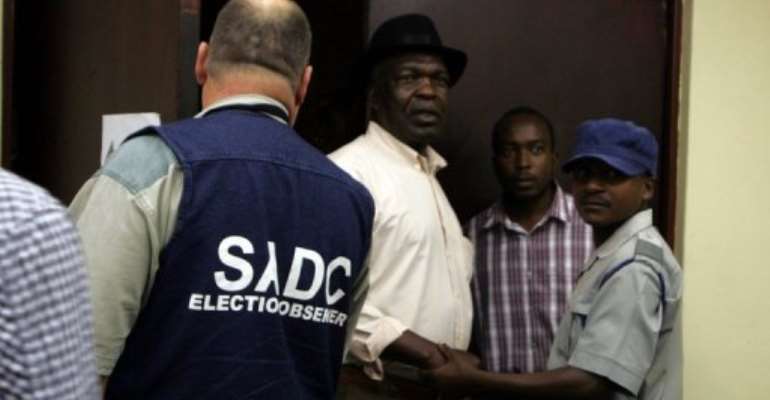 HARRE, Zimbabwe (AFP) - Zimbabwe rights activists say they are suffering under a police crackdown designed to be an ominous warning ahead of a constitutional referendum this week and elections later in the year.
Since late last year President Robert Mugabe's police force has detained staff from prominent civil groups and raided offices of election and human rights monitors.
Violence has not hit the levels seen during the bloody 2008 election, which saw as many as 200 people killed and many more disappeared, arrested or tortured.
Nor has it reached the levels of 2005's "Operation Murambatsvina" or "drive out the trash," which left an estimated 700,000 people homeless.
But rights groups believe they could be seeing a precursor of worse to come.
"Their intention is to intimidate civic society," Mcdonald Lewanika, executive director of Crisis in Zimbabwe Coalition told AFP.
"This is a clear calculated move to target certain civic society organisations to intimidate rights activists."
Police have justified the crackdown saying their targets were civic organisations they tagged "a serious security threat."
But Zimbabwe-watchers say that the arrest of top rights activist Jestina Mukoko in particular Mugabe's ZANU-PF intended to send a clear message.
Last week she was charged with a litany of offences, including operating an unregistered organisation, smuggling radios into the country and broadcasting without a licence.
"It is not by coincidence that Jestina has been targeted, everyone knows what happened to her when she was abducted and tortured," said Lewanika.
"The police are acting as an extension of ZANU-PF."
Mukoko was previously arrested in 2008 and detained at an undisclosed location before being taken to the notorious Chikurubi prison, a maximum-security centre outside Harare.
Her lawyers claimed state agents severely tortured her and forced her to confess to banditry and treason.
She was charged in 2009 with plotting to overthrow Mugabe, but the charges were later dismissed.
What has shocked rights groups about the latest crackdown is that it has come under a government in which Mugabe shares power with pro-democracy leader, now Prime Minister Morgan Tsvangirai.
Political analyst Clever Bere blames Tsvangirai for not putting enough pressure on Mugabe to halt the harassment.
"The issue of police targeting pro-democracy has not started today, this has happened during the course of the unity government," Bere said.
"The MDC should have done more, particularly when the inclusive government started," he said. "They have a minister of home affairs and above all a Prime Minister of government."
"If they had acted enough, this persecution of civic society would not have lasted to this day."
Lovemore Madhuku, chairperson of the pro-democracy group the National Constitutional Assembly insists the problems run beyond the government, and speak to state for Zimbabwean democracy.
"This shows the nature of our society that people allow police to arrest people for distributing radios, it shows the failure of our society," Madhuku said.
"Our problems go deeper than the blame on politicians, people are not protesting to say what is happening is wrong."
The current raids, he added, are the "reality of what is happening. These are not signs of what will happen."
"What more does one want to see."