Samsung Rewards Customers With Loyalty Promo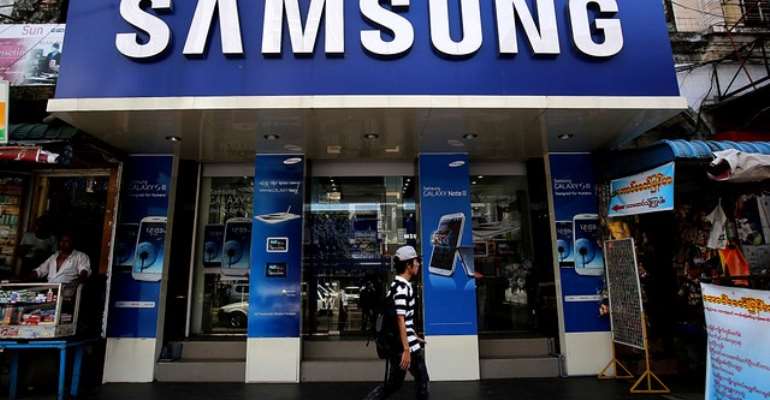 Samsung, a market-leader and a client-centred brand is rewarding its customers in Ghana with thrilling range of prizes in its e-Loyalty Promotion, dubbed 'Di bi na sa di biom'. Over the next 90 days, customers of Samsung who buy any of the selected range of genuine Samsung phones, qualify for instant prizes and upon registration of phone on e-warranty platform; will automatically enter into a draw filled with mouth-watering weekly and monthly prizes such as Hyundai i10, Samsung LED televisions, Microwaves, airtime from Airtel, Samsung phones, branded wears and other exciting souvenirs.
To participate, customers need to buy any Original Samsung phone from the selected range of products such as Keystone, Chief Hero, Nari, [email protected], Quattro, Galaxy Pocket, Galaxy Music, Galaxy S Duos, Galaxy S3 Mini, Galaxy S3, Galaxy Note II, or Note 10.1. After purchase, customers are required to register their phone on e-Warranty by sending 'Reg*IMEI NUMBER#' to shortcode 1453.
The Samsung e-warranty service allows customers to check the authenticity of the phone purchased while giving the customer the peace of mind that comes with the 24 month warranty.
The IMEI number is found on the box of all the original Samsung Phones. When the simple registration is successfully completed, customers will receive instant confirmation that; "You have successfully registered "Phone Model Name" on e-Warranty.
Business Head, Jaspreet Singh said: 'Samsung is always in the business of enriching its customers through its innovative products with schemes such as the e-Loyalty Promotion. Every Samsung customer who purchases genuine Samsung phone is eligible to participate in winning any of the prizes on offer.'
Talking about the integrity of the promotion, Mr. Singh reiterated: 'Officials of the National Lottery Authority will be in charge of the redemption points across the country and keep record of all prizes won.'
Samsung will hold weekly and monthly draws nationwide especially in Accra, Kumasi, Takoradi, Tamale, Cape Coast, Sunyani and Ho.
For further information, please visit the following pages www.facebook.com/SamsungGhanaOfficial; www.samsung.com; www.twitter.com/Samsung_Ghana
About Samsung Electronics Co.,Ltd.
Samsung Electronics Co., Ltd. is a global leader in semiconductor, telecommunication, digital media and digital convergence technologies with 2011 consolidated sales of US$143.1 billion. Employing approximately 206,000 people in 197 offices across 72 countries, the company operates two separate organizations to coordinate its nine independent business units: Digital Media & Communications, comprising Visual Display, Mobile Communications, Telecommunication Systems, Digital Appliances, IT Solutions, and Digital Imaging; and Device Solutions, consisting of Memory, System LSI and LED.
Recognized for its industry-leading performance across a range of economic, environmental and social criteria, Samsung Electronics was named the world's most sustainable technology company in the 2011 Dow Jones Sustainability Index. For more information, please visit www.samsung.com.