ACN Faults Gov Amaechi's Scorecard Presented At Commonwealth Forum, London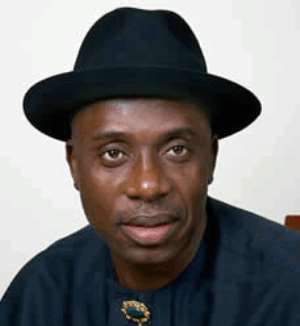 Rivers State Governor, Rt. Hon Chibuike Rotimi Amaechi
The Action Congress of Nigeria, Rivers State branch disagrees with the scorecard as presented by Rivers State Governor, Rotimi Amaechi at this year's Commonwealth Observance Day held at Westminster Abbey in London, United Kingdom.
The party believes Governor Amaechi merely used the forum outside the shores of Nigeria to misinform participants who are disconnected and unaware of the real situation in Nigeria.
The statement signed by the ACN publicity secretary, Jerry Needam challenge Governor Amaechi to convene a genuine stakeholders forum in the state where his claim of wealth creation and entrepreneurship scheme will be presented, rather than going abroad to lay claim to projects that are non existence in the state.
We further challenged the Governor of Rivers State to publish names of beneficiaries of his wealth creation and entrepreneurship initiative if his claims in London are anything to go by.
"Under Governor Amaechi, Rivers people and youths are more impoverished", ACN said.
What does Amaechi mean by industry of urban youths when only two persons according to him, out of millions of youths are beneficiaries of his industry of urban youths initiative.
Amaechi said 28 persons have benefited from Rivers State Sustainable Development Agency's agro-allied business initiative. It is a shame that of all the noise made on the achievements of the Agency, only 28 persons have benefited from the scheme.
This is grossly below average and insignificance considering the huge and embarrassing number of idle persons in the state.
Although, regrettable, but the stomach bug that prevented Queen Elizabeth from attending the Forum where Amaechi made his presentation actually safe Her Majesty from swallowing more lies and contaminated facts capable of heightening the stomach ache.
To us, the Commonwealth Forum only gave Governor Amaechi an opportunity to present an unrealistic, doctored and unfounded scorecard and programmes that are non-existence or non effective and inefficient in the Rivers State.
Of great worry also is the fact that the so called Rivers State Sustainable Development Agency, RSSDA only functions as a conduit pipe through which the government misappropriated Rivers peoples money on phony and white elephant projects.
We urge the Governor to demonstrate genuine commitment to the development of the state than making bogus claims abroad when things on ground do not reflect such claims.
Jerry Needam, JP
Publicity Secretary
Action Congress of Nigeria
Rivers State.
March 13, 2013